Softball falls flat against Boise State during 11-1 loss in series finale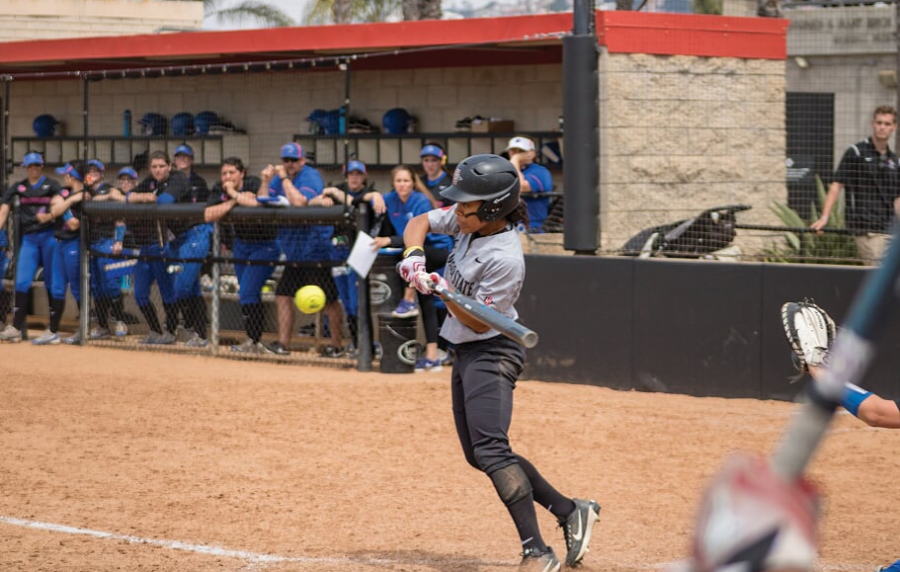 San Diego State softball had held a potent Boise State University offense in check heading into the series finale of a three-game slate at SDSU Softball Stadium on March 31.
The Broncos (23-11, 6-3 MW) came into the series with a combined batting average of .351 – the third highest average in D-1 – but had been limited to 11 hits and a batting average of .200 over the first two games.
That all changed on Sunday afternoon, as Boise lit up the Aztecs (10-23, 1-5 MW) for 11 runs on 14 hits, winning 11-1 in five innings to take the series two games to one.
Five of the Broncos runs came in a seven-hit first inning, which saw the team hit for the cycle and chase sophomore pitcher Marissa Moreno (2-12) from the game before she could record a third out.
"They've seen our pitchers now three days in a row, so you get used to it and you kind of make your adjustments and you know what you're up against," head coach Kathy Van Wyk said. "(Boise) came out much more aggressive and getting the hits that they needed."
Freshman first baseman Alison Seng put an exclamation point on the first inning onslaught with a three-run home run, before junior pitcher Julie McDonald came in and finally stopped the bleeding following back-to-back two-out singles.   
"(Moreno) got a couple pitches up and that set the tone for them and got their spirits going," Van Wyk said. "Hitting is contagious, and we haven't found the bug yet."
SDSU is batting only .219 as a team, and faced a formidable opponent in Boise sophomore pitcher Kelsey Broadus (8-5), who came in with an ERA of 2.48 and limiting batters to an average of .175.
Broadus loaded the bases in the first inning, but escaped after only giving up one run, and finished the game allowing three hits with zero earned runs and seven strikeouts in five innings pitched.
This was the second start of the series for Broadus, who was the tough-luck loser after allowing three runs in six innings during the Aztecs 3-1 series-opening victory on March 29.
"Credit to (Broadus), she did a great job in both games," Van Wyk said. "She probably felt like she didn't deserve to lose that first one, so it's the way the game goes."
Boise added two more runs in the second inning after junior dp Morgan Lamb hit her first home run of the season, bringing home junior shortstop Rebekah Cervantes.
The Broncos completed their scoring in the fourth inning, after senior third baseman Madison Anthony smacked a three-run homerun to left field off of senior pitcher Alex Formby.
The Aztecs threatened to score and extend the game in the bottom of the fifth inning, placing runners at first and third following a two-out rally, but redshirt junior second basemen Katie Byrd struck out to end the game. 
SDSU will now hit the road for a three-game slate against UNLV starting on April 6, and Van Wyk said that her team will remain focused as they move forward in conference play.
"We have good things happening, and we are progressing and obviously its mental," she said. "We are going to keep working on those things, and just go out and fight harder and do the best that we can."