Women's soccer drop opener in exhibition with Cal State Fullerton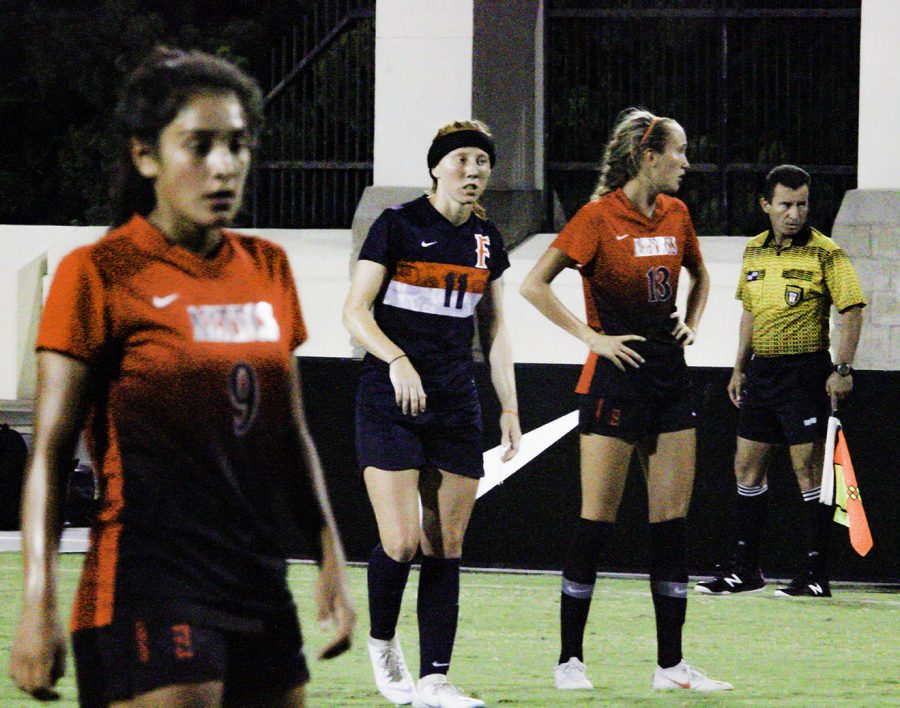 San Diego State women's soccer opened up their season with a 2-0 home loss Friday to the Cal State Fullerton Titans.
Both teams come into the season as defending champions in their respective conferences: Mountain West for SDSU and Big West for Cal State Fullerton.
The Titans scored on a header by freshman forward Kristen Swales in the 34th minute and an easy uncontested goal from eight yards out by senior defender Nano Oronoz in the 50th minute.
SDSU head coach Mike Friesen described the two goals his team allowed as "silly."
For the Aztecs, it is still early and Friesen said he thinks the mistakes are easy to clean up, while admitting his team was not treating this game like a normal game.
"For an exhibition game, we're not really looking at the game the same way we would for a normal game," he said.
Friesen wanted to try an assortment of different lineups and formations to see what will work best for future games.
"We're looking at specifically, how did this player do, what do we need to work on for next week, we really don't care about the result," Friesen said.
Two freshmen were in the starting lineup, including midfielder Laura Fuentes, who Friesen holds in high regard.
"Super technical, she's great on the ball, she's got a great sense of the game she's gonna get better and better every time she plays," Friesen said. "She's going to be a big-time, big-time player."
Despite being a freshman, Fuentes knows the significance of her role on a team with high expectations. The Aztecs are again favored by MWC coaches to win the conference for the sixth straight year.
"I know it's going to be hard but this team has a lot of chemistry and we been training hard in practice so I think we're gonna execute pretty well," Fuentes said.
Sophomore Mia Root led SDSU in scoring last year as a freshman but was limited to only 20 minutes in the match due to ankle surgery in the offseason. Friesen and the training staff have a weekly plan to gradually increase her workload.
The good news for Root is she did not feel any pain when she was out on the field, and she is looking to make an impact as a leader once the season gets officially underway.
"Coming off being a top goal scorer, you have to take on a leadership role going forward," Root said. "I think it's going to be a very important role that I have to take on."
The Aztecs best opportunity to score came right before the end of the first half, when a ball ricocheted off the top of the goalpost, buying enough time for Titans goalkeeper Tianna Sanders to secure the ball and keep a 1-0 lead.
After Fullerton extended its lead to 2-0 on Oronoz's goal, SDSU had an opportunity during the 66th minute, but sophomore forward Malia Kaleiohi was ruled offside, negating a chance for the Aztecs to cut into the deficit.