Hockey's offensive explosion propels SDSU over UCLA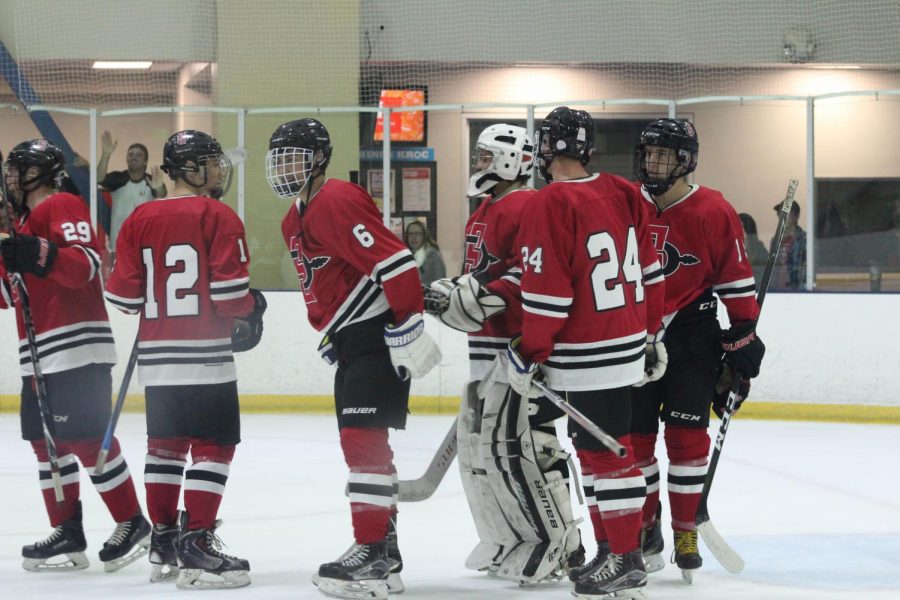 San Diego State hockey steamrolled UCLA in a decisive 8-1 victory at Joan Kroc Center Friday night.
SDSU took control early as Tyler Smith blasted a slap shot from the blue line to give the Aztecs a 1-0 lead just 23 seconds into the contest.
The Aztecs continued to control the pace of play throughout the period. SDSU's physical play had multiple big hits on opposing Bruins that stopped any of their momentum.
As the period moved on, the Aztecs were able to use their speed to frustrate the Bruins and draw multiple penalties. They were able to capitalize on this as SDSU's Aaron Mayer scored on the power play to make it 2-0. However, the Bruins were able to score on a power play of their own to end the period 2-1.
The second period was more of the same for the Aztecs.
SDSU was able to use its speed and size to control the puck and stifle any opportunities UCLA had.
Towards the end of the period, the Aztecs were able to increase their lead to 3-1 with Smith's second goal of the game.
Smith said his focus was to score for the Aztecs.
"I'm always just trying to get the puck on net," Smith said. "That's my biggest thing. For whatever reason, they decided to go into the back of the net today."
During the third period, the Aztecs found a way to increase their offensive onslaught by tallying five additional goals.
SDSU was able to pick up its third win in a row and is slowly presenting themselves as a top team in its division.
Another SDSU standout was goalie Nick Ilvento who stopped 17 of 18 shots. Ilvento did not get phased much during the game as he tracked the puck well.
Aztecs forward Aaron Mayer stood out by scoring a hat trick in addition to his two assists on the night.
SDSU head coach Phil Bateman highlighted on how the team's effort on special teams shaped the game in the Aztecs' favor.
"We made a cognizant effort of working on special teams because we've probably lost three or four opportunities in our first two games," Bateman said. "We want to work above that 25 percent and the guys were clicking, especially (Smith) tonight."
Bateman also added on the physicality the Aztecs focused on against UCLA.
"We have speed and the speed should play a heavy system," Bateman said. "One of the things that we are constantly trying to do is give the opponent the feel that they always have a red and black jersey on them."