SDSU comeback falls short in 28-24 loss to Nevada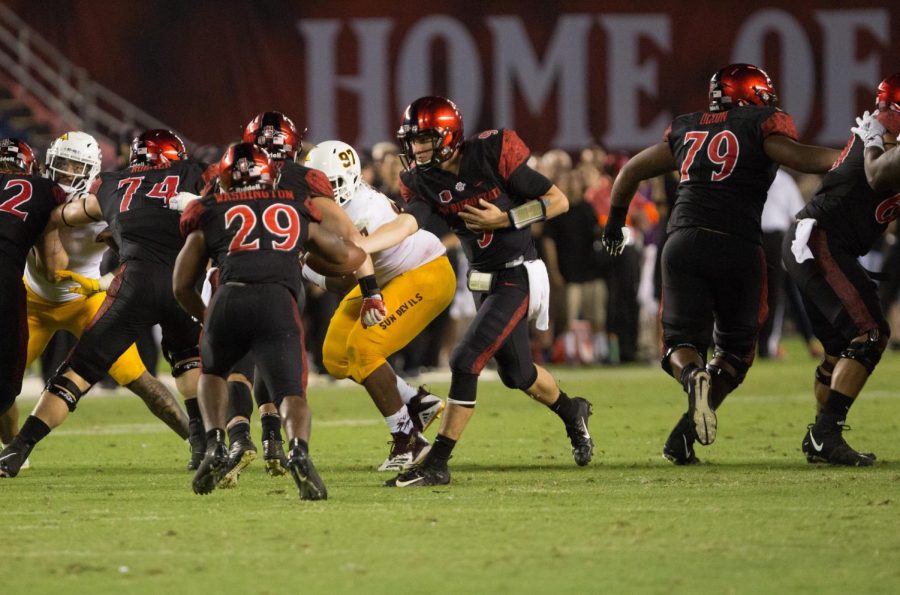 San Diego State football has made a living with close games and fourth quarter comebacks this season, but the prospect of a 99-yard drive with under a minute left proved too much for the Aztecs on Saturday night against University of Nevada.
SDSU (6-2, 3-1 MW) found themselves in a familiar position, needing a late drive to earn a come-from-behind victory, but could not complete its fifth fourth quarter comeback of the year, falling 28-24 to the Wolf Pack at Mackay Stadium.
The Aztecs got one final chance after converting a critical third-down stop, but Nevada's subsequent punt pinned them back at their own 1-yard line with 58 seconds to play.
Redshirt junior quarterback Ryan Agnew drove the team down to the Wolf Pack 35-yard line, but his last second hail mary heave was knocked down at the goal line as time expired.  
The loss ended a six game winning streak for SDSU, and resulted in their first conference defeat of the season.
Despite coming up short, Agnew had his career best statistical game as the starter, throwing for 283 yards with three touchdowns and no interceptions.
Agnew threw for only 86 yards in SDSU's victory a week before against San Jose State, eclipsing that total by the end of the Aztecs first two drives against the Wolf Pack (5-4, 3-2 MW).
Sophomore running back Chase Jasmin and junior tight end Kahale Warring were the beneficiaries of three Agnew first-half touchdown tosses, with Jasmin taking in a pass from two yards out and Warring scoring from 24 and 30 yards.
The Aztecs offense stalled in the second half, however, with all of their points coming as the team built a 24-15 lead going into the halftime break.
In the second half the Wolf Pack used two third quarter scores, a two-yard touchdown run from freshman running back Devonte Lee and a 32-yard field goal from senior kicker Ramiz Ahmed, to take the lead for good.
Nevada's first points came on a safety near the end of the first quarter, after SDSU was called for a holding penalty in the end zone.
On the ensuing drive the Wolf Pack took advantage of good field position, driving from midfield from for their first touchdown on a screen pass to freshman running back Toa Taua, who maneuvered down the right sideline for a 40-yard touchdown catch-and-run.
Nevada took a brief 15-14 lead in the first half, following a 26-yard touchdown pass from senior quarterback Ty Gangi to junior wide receiver Brendan O'leary-Orange with 8:50 left.
Gangi finished with 235 yards on the night to go along with his two touchdown passes.
SDSU will try to get back into the win column when it heads to New Mexico to take on the Lobos on Nov. 3 at Dreamstyle Stadium.