Men's basketball set to make its return to the Mesa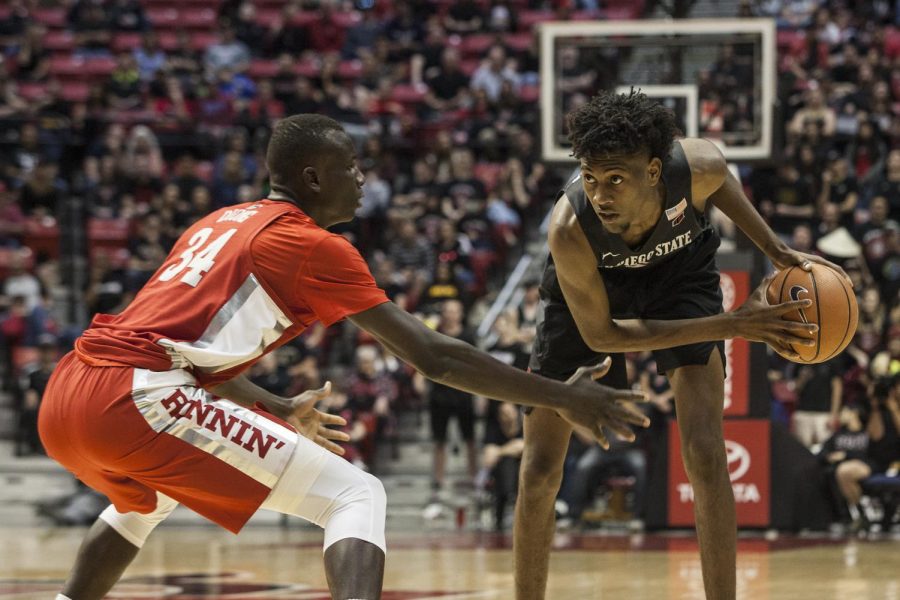 Expectations are high for San Diego State men's basketball, which returns key pieces from last years 22-win season and NCAA Tournament run.
SDSU appeared to hit its stride back in February and March, winning nine straight games en route to a Mountain West Conference tournament championship and a trip to the Big Dance.
The start of a new year is now right around the corner, and the Aztecs will return three of their top four scorers in senior point guard Devin Watson, sophomore forward Matt Mitchell and redshirt sophomore Jalen McDaniels all coming back.
Mitchell and Watson shined as consistent starters in their first years on the Mesa, while McDaniels toyed with the idea of entering the NBA draft after a successful first season, which included nine double-doubles and a team-best 7.5 rebounds per game, to go along with 10.5 points.
McDaniels ultimately decided to wear the Scarlet and Black for at least one more year, and the Aztecs will look for him to fill the void left by the departure of Malik Pope, who, along with Trey Kell, will no longer be donning an SDSU uniform for the first time since 2013.
The news of McDaniels' return was celebratory for head coach Brian Dutcher, who said he expects more of the same this season from his 6-foot-10 forward.
"We all know Jalen, we've seen him play," Dutcher said. "He plays with such great energy and emotion, and I don't think that will go away. He's always playing to win."
McDaniels will look to avoid a redshirt sophomore slump in his expanded role, and said the key to the season will be for himself and his teammates to focus on what they can control.
"We've just really got to focus on us," he said. "Just make sure we're on point, that we're playing hard and that we're executing. I feel like if we do that everything will just take care of itself."
Jeremy Hemsley will join Watson and guard Michael Sohikish as the only returning seniors on the team, and he could reinsert himself as a fixture into the starting lineup following a one year hiatus.
Hemsley started only seven games last season, after starting a career-high 31 times in 2016-17, but Dutcher said he expects the veteran guard to take full advantage of his final year at State.
"I think Jeremy has put the work in,  he's had a great three-year career and now he's ready to have the kind of senior year he's always dreamed about," Dutcher said. "We will hopefully help him make that happen."
The Aztecs  may also be expecting more out of sophomore guard Jordan Schakel, a sharpshooter who could replace the departed deep-threat in Max Montana, and junior forward Nolan Narain, who played sparingly last year but made his mark when out on the court. Narain can fill up the stat sheet in a hurry, as evidenced by his 18 points in 18 minute during last years home victory against University of Wyoming.
In addition to the returning core, SDSU has added a strong batch of newcomers who should make an impact. The recruits who made the longest trek to the Mesa are Joel and Nathan Mensah. The two players from Ghana match McDaniels and Narain in height, standing at 6-foot-10 apiece.
Incoming freshman forward Ed Chang is another player who has the talent to be a difference maker, as the four-star recruit was named the top player in Nebraska before moving to Washington after his junior year of high school.
The Aztecs also have freshman forward Aguek Arop and redshirt freshman guard Adam Seiko, meaning five players could take the court for the first time this season.
Dutcher said he is open to giving his newcomers playing time, so long as they earn it.
"Our freshman will have an adjustment period, and how quickly they make it will determine if they're able to fight their way into meaningful minutes or even a starting position," he said.
SDSU will have three home games to start the season, beginning with an exhibition matchup against Chaminade on Nov. 1, before hopping on a plane to Hawaii to compete in the Maui Jim Maui Invitational. The early season tournament will be the first big test for the team, as Duke University awaits to kick off the invitational on Nov. 19.
The rest of the field does not get much easier, as it includes Gonzaga, Arizona, Auburn, Xavier, Illinois and Iowa State. Winning this tournament would go a long way in putting the Aztecs on the national radar and set them up with serious early season bragging rights.
Dutcher said he knows his players get excited to play talent from outside of their own conference.
"As much we know the value of the Mountain West Conference, and how hard it is, these kids want to play Pac-12, they want to play ACC they want to play Big-10 teams," Dutcher said. "And that's a promise I made them when they came here."
Another date to circle is Dec. 22, when SDSU welcomes in Brigham Young University for the first meeting between the two rivals since 2011. The Cougars left to join the West Coast Conference after that year, making this matchup a long time coming.
University of San Diego and Cal Berkeley will also take on the Aztecs this year, on Dec. 5 and Dec. 8, respectively, before SDSU kicks  off MW conference play with a road matchup on Jan. 5 against Boise State University.
Conference foe University of Nevada should provide a challenge for the Aztecs, as the Wolf Pack start the year ranked No. 7 in the AP Top 25 Poll. This is in large part do to the return of senior twins Cody and Caleb Martin, along with senior guard Jordan Caroline.
SDSU shellacked the same core of Nevada players by a score of 90-73 in last years MW tournament, and the Aztecs will get their first crack at the conference's newest heavyweight on Feb. 20 at Viejas Arena.
Editors note: This story has been updated from an original version which said Joel and Nathan Mensah are brothers, the mascot of BYU is the Bears, that BYU left the MWC for the WAC, that the game against Cal is a home game and that Jordan Caroline, Caleb Martin and Cody Martin are juniors. The Daily Aztec regrets these errors.