Column: Aztecs must utilize tight end Kahale Warring more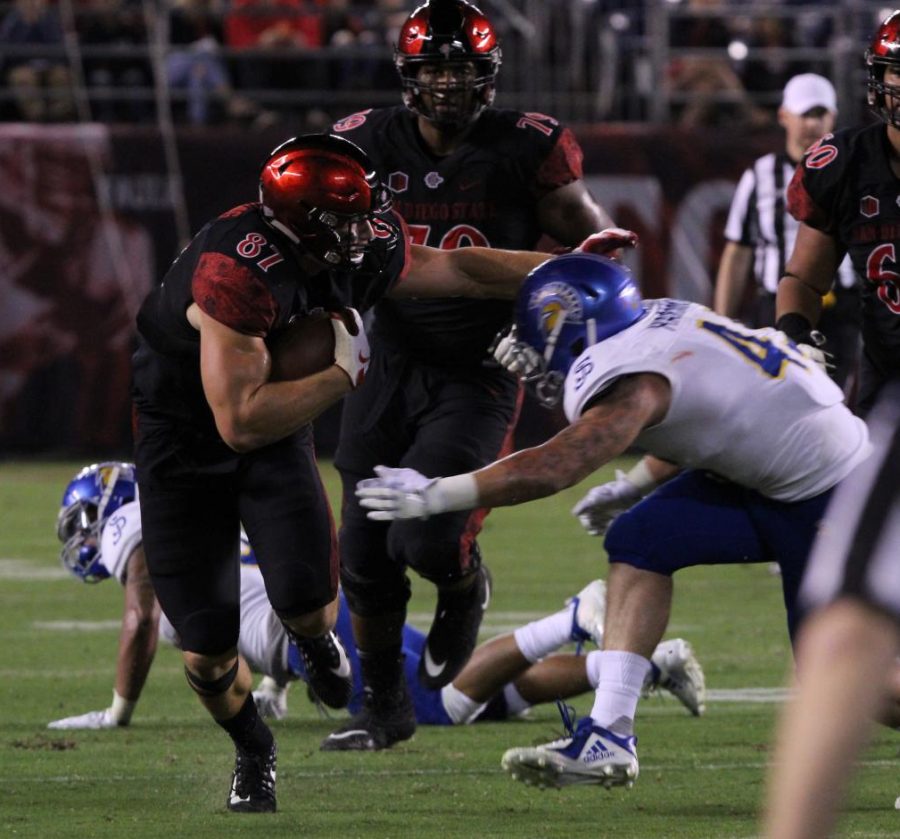 San Diego State junior tight end Kahale Warring has had a big impact in the Aztecs' passing game this season.
The 6-foot-6, 250-pound product out of Sonora, Calif. has 21 catches for 288 yards and three touchdowns this year.
Warring's receiving yards ranks second on the Aztecs, behind senior wide receiver Fred Trevillion (312).
Just nine games into the season, Warring already has 40 more receiving yards than he did his entire sophomore season.
In the Aztecs' last two games against Nevada and New Mexico, Warring recorded 11 receptions for 156 yards and three touchdowns.
Warring's frame, athleticism and hands make him virtually unguardable by opposing defenses.
His playmaking ability shows that he needs at least five or more targets and increased involvement on offense every game.
Warring only played one year of football in high school but adjusted to the sport quickly.
Head coach Rocky Long said Warring seems to improve each week despite his lack of experience playing football.
"Kahale, I think, is still a little bit of a novice football player because he hadn't played very much," Long said. "He gets a little bit better every week."
Warring's potential impact on the ground and in the air shows his versatility.
Long has seen Warring's impact beyond catching passes.
"He's actually really improved his blocking," Long said.
Warring, along with junior tight end Parker Houston, is often used by the Aztecs, especially in two-tight end sets.
Offensive coordinator Jeff Horton said both tight ends have different assignments on offense but excel in their respective roles.
"It's huge to have both those guys, they're both good at what they do. Kahale gets more of the glam because he's making catches," Horton said. "What Parker does is kind of the dirty work. Those two guys are invaluable."
In addition to making contested catches, Warring's route running ability makes him a big target downfield.
The threat of SDSU's ground game could distract the opposing defense from covering the pass.
Long said play action passes help draw defenders away from Warring.
"Our offense has done a great job with play action pass where sometimes (Warring) slips out there in the open and nobody covers him, and he catches the ball," Long said. "So he is a big influence on any kind of offensive success we have."
Warring, who has caught touchdown passes from two different quarterbacks this season, has proven he is able to make plays no matter who is behind center.
An increased volume in the passing game will not only benefit Warring but also SDSU's offense altogether.
Long said Warring's size and strength allow him to prosper for the Aztecs.
"He is an outstanding, big athlete," Long said. "He runs really fast, and he has great hands. And so he is a matchup problem for anybody."