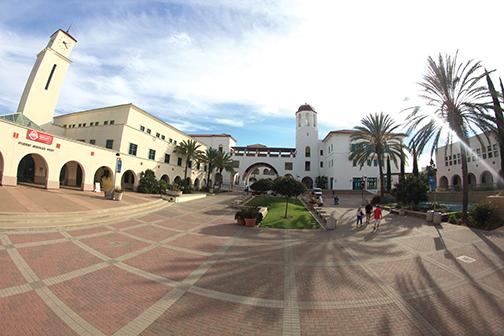 Associated Students' University Council met in the Student Union on Nov. 7 to discuss Hunger and Homelessness Awareness Week, updates on the meningitis breakout and upcoming events from the various colleges.
Hunger and Homelessness Awareness Week
San Diego State will be participating in its first Hunger and Homelessness Awareness Week from Nov. 13 to 15.
The week will begin on Nov. 13 with a resource fair from 11 a.m. to 2 p.m. The fair will consist of 20 organizations who will be providing information for food or housing insecure students.
On Nov. 14, there will be stations set up from 10 a.m. to 2 p.m. for students to meet with a county worker and complete a Calfresh application. If a student is approved for the Calfresh program, they may eligible for a grocery stipend. No documents are required, but it is encouraged students bring a photo ID and income statement.
There will be a screening of the film "Inocenter" in the theater on Nov. 14 from noon to 2 p.m., with free Chipotle burritos available for those in attendance. After the film, a panel of professionals will be speaking on homelessness.
Director of Well-Being and Health Promotion Stephanie Waits Galia said students who don't think they'll qualify for Calfresh should try to apply anyways.
"We don't want to share a message of 'These people qualify, these people don't,' because there's actually a lot of loopholes that we can get through," Galia said, "and legislation is changing rapidly to broaden access to students."
Galia said the Economic Crisis Response Team is also working to help reduce the stigma surrounding the idea of getting help and encouraging people to apply for the Calfresh program.
"By having these big awareness events and having this big Calfresh day, hopefully we can do the work we've done in months in one day," said Galia.
Updates On The Meningitis Breakout
SDSU Associate Vice President of Student Affairs Andrea Dooley addressed the importance of getting the meningitis vaccine and accompanying booster shots. The virus is life-threatening and those who do survive can lose limbs or lose senses.
Dooley said the university will be hosting educational events to raise awareness and they are looking into making the meningitis B vaccine a requirement in Fall 2019.
"A student here had meningitis, he had lost his limbs prior to coming to campus but he's a double alum and he will be telling his story and we'll push that out through social media as well as a family who lost their daughter here at San Diego State in 2014," said Dooley. "We don't intend to scare people or make people feel afraid, but we want to illustrate the importance of the vaccine and taking care of your own health and safety."
Upcoming Events
The College of Professional Studies and Fine Arts is hosting the Lend a Hand campaign from Nov. 12 through Dec. 7 with bins at various locations around campus for people to donate clothes.
On Nov. 15, Fowler College of Business will have a networking event from 5 to 7 p.m. for staff and students.
The College of Sciences and Student Success Center have an event open to all students on Nov. 15 from 10 a.m. to noon in Templo Mayor about getting involved with research.