Aztecs defeat Cal State Dominguez Hills as McDaniels allegations linger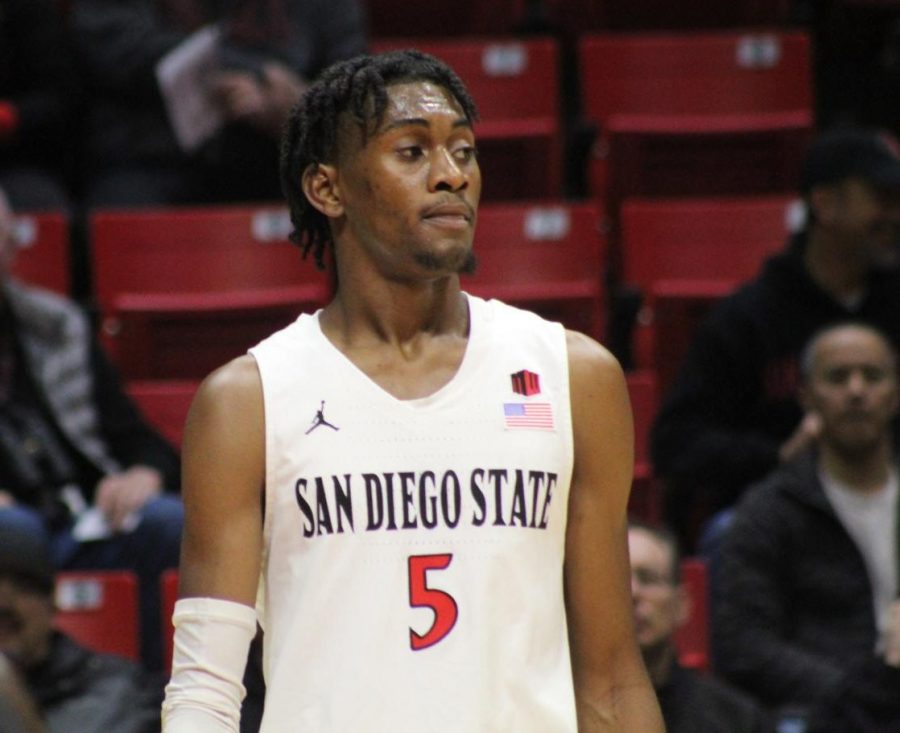 San Diego State men's basketball defeated Cal State Dominguez Hills by a final score of 99-46 on Wednesday night at Viejas Arena, but a shadow hung over the game after news broke earlier in the day that sophomore forward Jalen McDaniels is being sued for allegedly filming and sharing sex videos during his high school days in Washington.
McDaniels, arguably the face of the team, started off slow, making only two of his first 10 shots and finished with 13 points on five of 13 shooting.
Head coach Brian Dutcher said it is unknown how much McDaniels' off-court situation affected him against the Toros.
"He didn't have the numbers he normally has. I thought he played hard; he played the right way, but how much it was on his mind, I don't know," Dutcher said.
Despite McDaniels' ongoing investigation, there was still a game to be played.
On the court, the Aztecs started off slow.
The Toros were able to keep pace with SDSU during the first seven minutes of the game, with the score tied at 9-9 with 13:40 left.
Then came the Aztec avalanche.
SDSU piled on 23 straight points during a six-minute span to gain a 32-9 lead with just over six minutes left in the first half.
Sophomore guard Matt Mitchell, who led SDSU with 20 points, said the team's ball movement contributed to the 23-0 run.
"It was just us moving the ball a little bit better, locking in on defense, playing as a team and following coach's footsteps," Mitchell said. "I think just us locking in, climbing in for the rest of the game helped us."
The ball movement resulted in 28 assists on 36 made field goals.
Dutcher said he liked his team's ball movement.
"The things I liked from my team today was that they shared the ball," Dutcher said. "We played the right way."
SDSU shot 51 percent from three-point range, making 14 of 27 attempts.
Dutcher said SDSU's perimeter shooting is a strong suit of the team.
"We been shooting the ball great from three," he said. "We got a real dangerous three-point shooting team. Offensively, a lot of things we're doing are at a really high level."
The Aztecs are coming off a loss on the road to California where they blew an eight-point fourth quarter lead.
Senior guard Jeremy Hemsley said the team still feels the lingering effects from that loss at Cal.
"It's still something that's still on our mind. We didn't want to start the game like we started that game against Cal," Hemsley said. "We still felt we should've won that game. We obviously know we're better than what we showed last game."
With final exams approaching, the Aztecs do not play a game for another 10 days when the team takes host BYU on Dec. 22.
Hemsley said these next 10 days will require focus.
"There has to be an emphasis on concentration," Hemsley said. "We just have to take advantage of the time that we have and just try and get better each day."