SDSU, Southwestern College receive federal grant to support transfers in STEM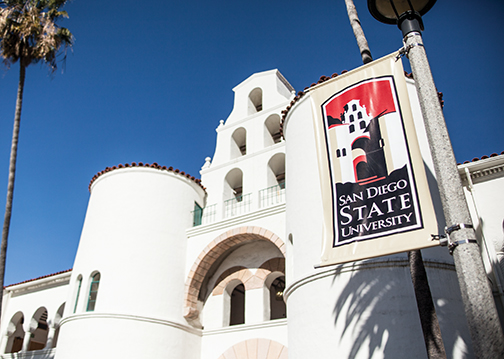 San Diego State has partnered with Southwestern College to receive a $5 million federal grant for transfer students majoring in STEM fields that will create scholarships and research opportunities.
SDSU professors Regis Komperda, Byron Purse and Mike Bergdahl worked alongside Southwestern College professor David Hecht to establish the grant. Purse said the focus of the grant is to provide Southwestern College transfer students with more research opportunities and better support while at SDSU. 
"The project is focused on providing better mentoring and research opportunities for transfer students," Purse said.
Purse said the lack of research opportunities, as well as the obvious positive effects of research opportunities early in a student's career, were driving factors in the professors' work towards the grant.
"Because the community college system often doesn't have these same types of opportunities we wondered if those students could be disadvantaged in some way," Purse said. "We've often felt students who are involved in research can see a lot more value in what they are learning. We think they just do better in their studies."
Hecht said funding for the grant came from the National Science Foundation.
"(The NSF) has a division of undergraduate education and one of their programs is the F-STEM program," said Hecht. "What that does is provide scholarships for STEM students.
SDSU will receive $1.8 million from the grant, while Southwestern College will receive the remaining $3.2 million, according to Hecht. The total $5 million will primarily be dispersed in scholarships, paid internships and academic resources.
"60% of the money is going to scholarships," Hecht said. "At Southwestern College, we're going to have workshops on how to apply to a four-year school, career options (and) study skills. There will be a summer internship for those who are transferring to SDSU, and for SDSU students there will be grad-student and faculty mentors."
Hecht also said the students who partake in research funded by the grant will have the opportunity to present their findings at the American Chemical Society meetings — both regionally and nationally.
"The idea is that students will have the opportunity to present their work," Hecht said. "So we have money for the community college students who will be doing research to present at these meetings as well as students at SDSU to present at these meetings."
The grant will go into effect for the fall 2021 transferring class, while students from Southwestern College will have access to SDSU labs as early as 2020, according to SDSU Newscenter. 
The professors involved are also hopeful the grant will help SDSU's development as an institution.
"We really care about our students and the way their success is tied to our professional success in the research that we do and the success of the university as a whole," Purse said.
Currently, SDSU and Southwestern College staff are hopeful the grant will be successful and pave the way for similar programs to be implemented for other local community colleges.
"The hope is that we can use this as a kind of a model, and we can expand the opportunities," Hecht said.
Purse said the grant is a way to keep improving SDSU's effectiveness in aiding students and the university as a whole.
"We're interested in making a difference," Purse said. "We're interested in strengthening SDSU because I think strengthening SDSU and strengthening student success are really the same thing. And we're interested in learning what are the most effective practices that we can implement to help do all of those things."