Update: Nov. 12, 5:53 p.m.
Power has been returned to most on-campus residential communities except South Campus Plaza North and South, Huāxyacac and Chapultepec, according to a campus-wide email from the Office of Housing Administration. Power is expected to be returned by 8:30 p.m.
There have been various emergency portable restrooms set up around campus due to buildings and floors experiencing low water pressure. University Towers Kitchen, Huāxyacac and Chapultepec food trucks, the Aztec Markets at Huāxyacac, Cuicacalli, East Commons and Aztec Student Union are still open and accepting meal plans.
Update: Nov. 12, 2:20 p.m.
All university classes have now been canceled through today due to the outage, according to SDSU urgent alerts. It is also affecting the water supply. An SDSU spokesperson said they have received reports that toilets aren't flushing due to low water pressure.
Update: Nov. 12, 2 p.m.
Power has been restored to some areas of campus, including the Education and Business Administration building on the east side of campus. The university has yet to confirm restored power in any other buildings.
SDG&E said it is still working to restore power to about 13,000 customers out of the 24,000 who lost power earlier this afternoon.
Original Story:
San Diego State and various areas of San Diego lost power around noon on Nov. 12.
According to the SDG&E outage map, Kensington, Talmadge, West State College, City Heights, Chollas Creek, Oak Park, Rolando, East State College and La Mesa are part of the outage. 24,000 customers are without power, according to SDG&E Spokesperson Sara Prince.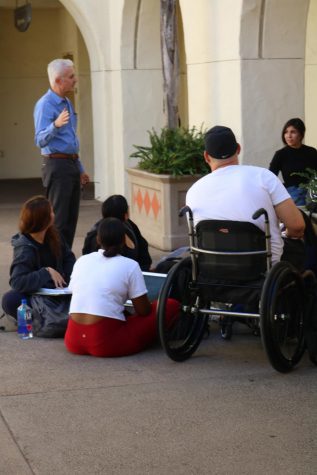 Classes at SDSU have been canceled until 5 p.m. However, classes not impacted by the outage are still in session, according to SDSU urgent alerts.
Impacted buildings include:
Adams Humanities
Communication
Conrad Prebys Aztec Student Union
Dramatic Arts
Education & Business Administration
ENS Annex
Exercise & Nutritional Science
Gateway
Little Theater
Love Library
Music
Parking Garage 1
Parking Garage 4
Peterson Gym
South Campus
Student Services
The Transit Center
The outage was caused by a bird coming into contact with a substation, Prince said. Power is expected to be restored by 4:30 p.m. today.
For more updates surrounding SDSU's outage, visit urgent.sdsu.edu.