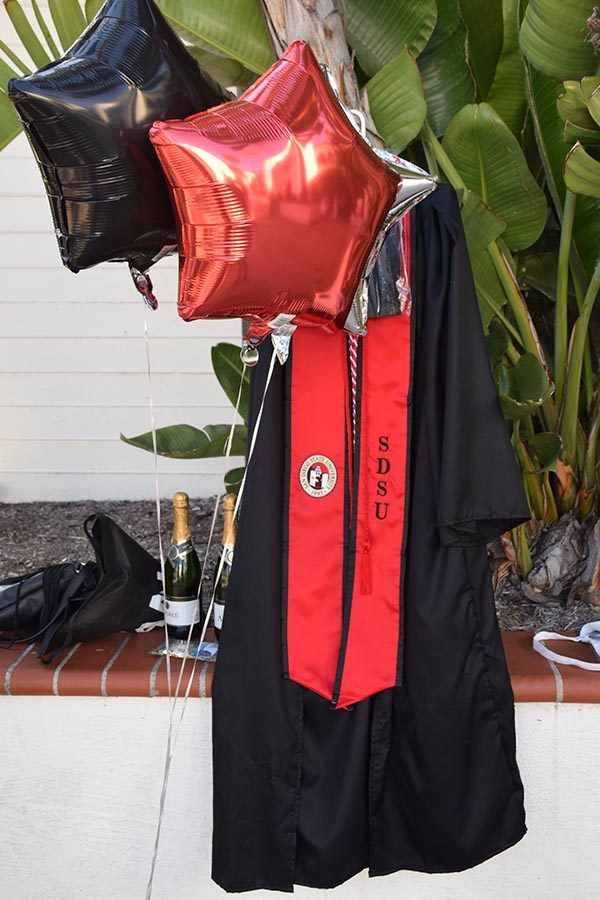 Entramos a la universidad con la meta de graduarnos, y para muchos es el día más importante de sus vidas.

Desafortunadamente, ese plan se pospondrá este semestre aunque los estudiantes recibirán su título en mayo.
Ahora, miles de estudiantes tendrán que esperar hasta fin del año para la ceremonia de graduación.

Para reducir el riesgo de contraer COVID-19, la Universidad Estatal de San Diego (SDSU)  ha pospuesto las ceremonias de graduación hasta a mediados de diciembre de 2020.

De acuerdo con el comunicado, las ceremonias se llevarán a cabo del 17 al 20 de diciembre.
"Esto ayudará a garantizar la autenticidad de la experiencia para nuestros estudiantes", señaló el comunicado de SDSU. "Nuestros estudiantes son tan merecedores de este momento, y queremos estar allí con ellos en persona".

Según SDSU, los estudiantes tendrán la opción de tener una celebración virtual el 16 de mayo, donde la comunidad de la universidad se reunirá para conmemorar a los graduados.

La universidad aseguró que el aplazamiento no tendrá un impacto en el momento de la finalización de los títulos para aquellos que se gradúan en mayo o agosto, y los diplomas reflejaran el momento adecuado.
Para muchos estudiantes, este día es importante porque se esforzaron para obtener su título y tradicionalmente se celebra en familia.
Sofía Gómez, estudiante de último año, dice que se imaginaba ese día como la que se ve en la televisión, mostrando sus bandasque ha ganado de organizaciones a las que participó, y sentarse entre sus amigos del Departamento de Periodismo. 
"Hubiera sido la primera vez que la familia de mis padres biológicos y la familia de mi padrastro se unieran para ver mi mayor logro en un solo lugar", expresó Gómez. "Considerando que había estado esperando cinco años para graduarme, se sentía como que se desapareció con todo lo que está pasando antes del anuncio de SDSU". 
Gómez dijo que recibirse es un gran logro porque parte de su familia no la apoyaron pero ella mostró que sí se pudo, y luchó contra el machismo. Aunque se pospuso la ceremonia, ella dice que todavía asistiera pero que no será lo mismo. 
"Habría querido tener la conmemoración antes de recibir mi título, pero nuestra salud es lo más importante durante el tiempo de la pandemia COVID-19",  explicó Gómez. 
Muchos están de acuerdo que es mejor tener el comienzo más adelante en el año para el bienestar de todos, pero son vacilantes porque se celebraría meses después de recibir su título.
"Como graduado de primera generación, caminar por el escenario es muy importante para mí", declaró Alexis Román, estudiante de último año. "Llegar a ella en una fecha posterior suena como algo a lo que estoy abierto, pero también vacilante debido al momento".

Como muchos, Román dijo que se alegra de que la ceremonia no haya sido cancelada porque sería decepcionante, ya que caminar por el escenario es para la familia y los recuerdos del edificio.
Las nuevas fechas de las ceremonias ya fueron asignadas por la universidad:

17 de diciembre:
SDSU Imperial Valley a las 7 p.m
18 de diciembre:

College of Sciences a las 9:30 a.m.
College of Arts and Letters a las 3 p.m.
19 de diciembre:

Fowler College of Business a las 8 a.m.
College of Health and Human Services a la 1 p.m.
College of Engineering a las 5:30 p.m.
20 de diciembre:
College of Education and Division of Academic Engagement and Student Achievement a las 9 a.m.
College of Professional Studies and Fine Arts a las 2 p.m.
Para más información sobre las ceremonias dale clic aquí.