The Aztec women's tennis team closed out their fall schedule with a pair of tournaments, sending a group of players to Las Vegas for the Watanabe Classic and keeping the other group in San Diego for SDSU's Fall Classic II.
The tournaments served as the final trial runs before the Aztecs return in January on a long quest to defend their Mountain West Championship.
Senior Tamara Arnold, who placed on last year's all-conference singles and doubles team  was an instrumental piece in last year's championship run. She believes this team's grit will be a factor to help retain their Mountain West title.
"We all have bad days but at the end of the day it's about how we go about fighting and grinding it out for the team," Arnold said. "If all the girls grind it out no matter what the score is and stay humble then I think we have a good chance to do it again."
The Aztecs grinded out these last two tournaments to close out their fall schedule and emerged victorious in both for a total of three finals wins. The pair of senior Alicia Melosch and junior Andreea Velcea were the only Aztecs to win their respective doubles flights, defeating a UNLV duo 6-3 in Vegas. Senior Andjela Skrobonja also took home a victory in Vegas by winning her singles flight final 6-4, 6-1. Back at the Aztec Tennis Center, Arnold was the only Aztec to emerge victorious after winning her singles flight, 6-4, 6-2.
"We had a really great event," head coach Peter Mattera said. "Played high-level tennis, got some wins and made ourselves and our team better."
Including the most recent tournaments, the Aztecs' nine-player roster took part in five events over the fall schedule. The Scarlet and Black took home finals wins in the majority of the events and competed to the fullest in each, setting themselves up for more success in the spring.
"They are all very very competitive. Even though we're not having to put a lineup together, they've all seen that they've been chosen to be a part of a very high-level division one college tennis team," Mattera said. "In the spring it's gonna be a good problem to have lots of really good options in order to put the best team out there."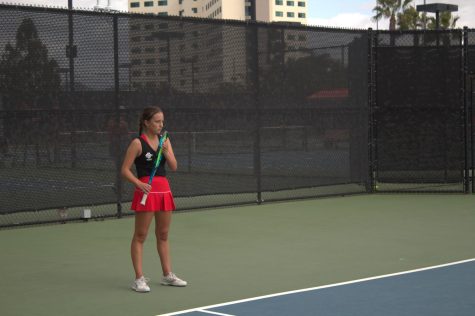 To begin the fall schedule the Aztecs competed in the USD Intercollegiate Invitational and the SDSU Fall Classic I from Sept. 29 – Oct. 2, taking home victories in both. Newcomers Detkovskaya and Skrobonja were victorious in the finals of their doubles flight in USD, in what was also their first action as Aztecs. Meanwhile, senior Julia Jordan was back at the Aztec Tennis Center and emerged victorious in her singles flight, while senior Cécile Morin unfortunately fell in the final of her flight. Morin also managed to reach the finals of her flight during the second installment of the Classic more recently, but also succumbed to defeat.
Next the Aztecs had seven players compete in the ITA Southwest Regional Championships from Oct. 20-23 at the Aztec Tennis Center. Skrobonja led the way for the Aztecs, going as far as the semifinals before falling in heartbreaking fashion by losing games despite maintaining 4-1 leads in each. The semifinal appearance was still an achievement in itself as the tournament featured many of the top players in the country including No. 1 ranked USC senior ​​Eryn Cayetano who fell in the quarterfinals.
The Aztecs then closed out their fall schedule with both the Watanabe Classic and SDSU Fall Classic II and are now set for a break before returning to action In January. The Aztecs will be training for a reduced 8-hours a week (four hours on the court and four in strength and conditioning training) before they shut down on Dec. 2.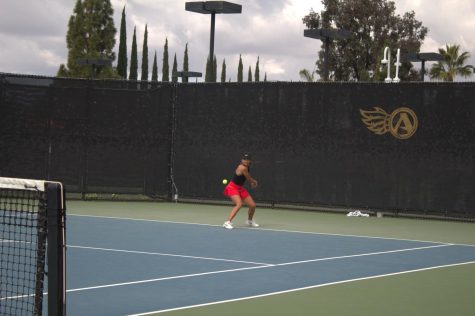 "Once that date arrives we're looking at about 5 weeks that they'll have some freedom," Mattera said. "I think that this group, both because they see that this team can be quite good and also because they're competitive, I think that they'll do the things necessary over that 5-week span to maintain their level."
While Arnold acknowledged that she and the rest of the Aztecs would each continue to train and play tennis over the break, she is also grateful to be able to take some time away from the sport.
"Everybody is still going to play one or two times a week, and some are going to train every day," Arnold said. "But it's also really nice to be with the family, relax, and take your mind off tennis for once.
But once they return, the Aztecs are going to be ready to showcase their dominance once again.
"Assuming we're healthy, we're gonna have a deep lineup, a very good lineup, and a very competitive lineup," Mattera said. "It's gonna be fun."