Aztecs pull off clutch victory in first home match of the season
To secure head coach Peter Mattera's 400th career win, senior Alicia Melosch stepped up when it mattered most for SDSU's 4-3 win
Out of Friday's nine tennis matches, victory would all come down to the final set of the day — a tiebreaker that featured three game ties and three lead changes between Aztec senior Alicia Melosch and Alabama junior Anna Parkhomenko.
With the score tied at 3-3, the fate of the victor was put in the hands of both Melosch and Parkhomenko when the two teams collided on Jan. 27. Parkhomenko looking to keep Alabama's perfect 2-0 record intact and Melosch looking to secure SDSU's first win of the season and head coach Peter Mattera's 400th career win. The result was a grueling tennis match that lasted over two hours.
Parkhomenko opened the match firing for Alabama, taking the first set 3-6. But Melosch came back with confidence and took the second set 6-2 meaning the match would be settled by a decisive third set.
"I was trying to keep motivated but it didn't work and I lost the first set. But then I thought to myself, 'No, it's not your fault. You just have to keep on going and play for the team'," Melosch said. "So I kind of did it for everybody because I didn't want to let them or myself down."
Melosch was not in a good position to open the set as Parkhomenko picked up the first two games and did not look like slowing down. But just as she did to secure the second set, Melosch never gave up and came back roaring to win four of the next five games and lead the set at 4-3. From then on, the crowd was left in awe as the two athletes rallied back and forth switching leads during the set.
"You're the better player," Mattera told Melosch during the match.
"And I truly felt that she was," Mattera remarked. "I said 'you're gonna win this match but you need to do a couple of things just a little bit better' and we talked about those things and she did those things better. It was a high quality match for being the decider."
Parkhomenko struck back with two wins in a row to take the set lead at 5-4, but then just as she had done all day, Melosch continued to respond and added three games of her own taking the lead and victory in the final set, 7-5. A terrific 3-6, 2-6, 7-5 match to capitalize an entertaining day of tennis and a historic win for head coach Mattera.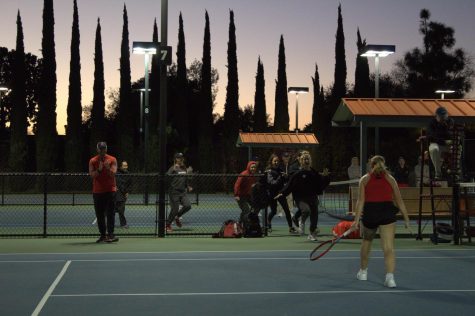 "I'm super honored (to win for Mattera) because it's my last year and I've been here since my freshman year," Melosch said. "So I'm super happy that I could be a big part of his 400th win."
Melosch's clutch victory came after another painstaking tennis match that day. 
The matchup between SDSU and Alabama opened up with the regular scheduled doubles matchups and whether the Aztecs were to secure the doubles point fell into the hands of Melosch and junior Andreaa Velcea after the previous two doubles matches were split evenly. Senior Dariya Detkovskaya and junior Andjela Skrobonja took care of business on court one defeating sophomore Petra Sedlackova and Parkhomenko 6-3. But the duo of senior Tamara Arnold and sophomore Rania Azziz fell 4-6 to graduate student Ola Pitak and sophomore Loudmilla Bencheikh leaving the fate of the Aztecs' doubles point in the hands of Melosch and her partner Velceaa.
Unlike she would later, Melosch was unable to secure the point for the Aztecs as her and Velceaa fell painfully to junior Anne Marie Hiser and freshman Klara Miliceic 6-7 (2) in another game that required a tiebreaker.
"I was wishing we had won the point," Mattera said. "But it was a hard fought point and we knew that was going to be the case. The two that we did not win could have gone either way truly."
It is not often that college tennis teams come back to win the match after losing the doubles point, but something special was in the air for the Aztecs as they looked to earn SDSU's longest-tenured head coach his 400th victory.
"I told the team when we huddled up right before we went back for singles that we have the capability to win every point we're sending out there in singles. The doubles point is important but it's only one point. Gotta move on and look through the windshield not the rearview mirror," Mattera said. "I think the stat that I've heard is that 66% of the time if you get the doubles you go on to win that match, but that means 33% you don't!"
The Aztecs were hoping to make Alabama join that 33% as they struck back in singles after falling in doubles, putting themselves in pole position to win the match.
Skrobonja was the first to put a point on the board for the Aztecs with a 6-2, 6-2 victory over Bencheikh. Arnold's victory came shortly after, besting Sedlackova 6-0, 6-2 followed by Detkovskaya who gave the Aztecs a 3-1 lead on the day by winning 6-3, 6-3 against Pitak.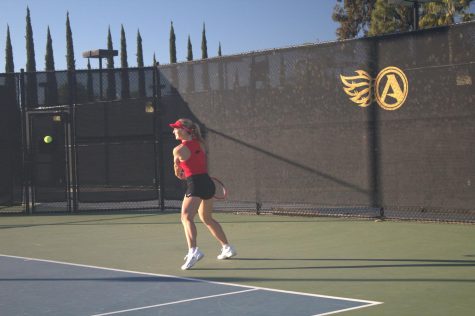 With three singles matches remaining, the Aztecs needed just one win. Azziz fell in her match on court six 6-2, 7-5 to give Alabama a chance at 3-2, but the Aztecs still had both Velceaa and Melosch battling into a third set on courts four and five.
Velcea's game was just as grueling as Melosch's singles match and she ultimately fell in the third tiebreaking 6-3, 5-7, 3-6, leaving fate in Melosch's hands as she clutched up the victory for her team and head coach.
"400 wins means I've been blessed to be around a lot of really, really, good players and I'm very fortunate for that," Mattera said. "It also means I've been here a long time and I'm very fortunate for that."
Melosch's singles victory marked the Aztecs first victory in the second match of their Spring season and also earned the Aztecs their first ever victory against Alabama in the two occasions the schools have met.
At 1-1, the Aztecs will welcome their rivals, the University of California San Diego, for a matchup at the Aztec Tennis Center on Saturday, Feb. 4.
"400 wins sounds nice, It's a nice little milestone," Mattera said. "But looking forward to 401."