"I am going to frame this," was heard as kids left the Polster Branch Boys and Girls Club with their autographed t-shirts last weekend.
On Sunday Feb. 5, the MESA Foundation held a basketball skills clinic with both the men's and women's basketball players.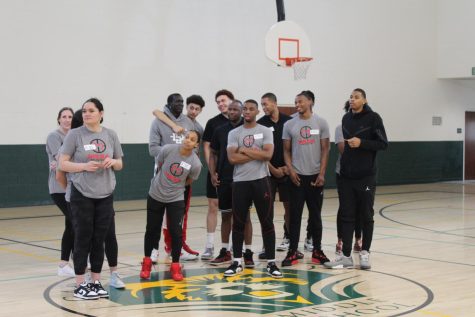 This event drew between 70 and 80 third through eighth graders from the local community. 
"With the boys and girls club (event) today, we have a former player DJ Gay (here) who many are familiar with and his involvement and coaching throughout the community," co-founder of MESA Foundation Jason Tetley said. 
DJ Gay played four seasons for San Diego State from 2007-2011 and two of them with Aztec alumni and current NBA player Kawhi Leonard during the 2009-11 period.
Gay orchestrated the skills clinic with constructed basketball drills in which the Aztec players acted as "coaches" and interacted with the kids.
"I think anyone who has an opportunity to walk into the gym today and be a part of it can see the excitement on the kids' faces," Gay said. " I think this is something incredible that's being done for the community of  San Diego and will continue to grow."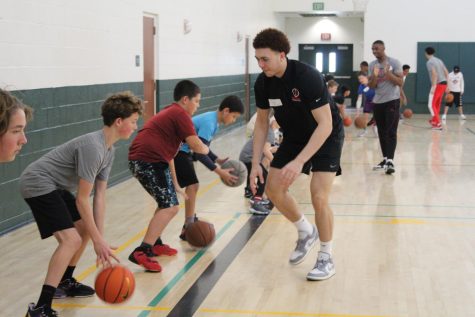 Of those kids, some were there from Star Pal, a non-profit organization in partnership with San Diego Law Enforcement personnel who are devoted to helping the youth thrive. They were accompanied by Corey Pitts, a San Diego police officer and volunteer. 
"This is my first time with the MESA Foundation," Pitts said. "I think it's great that San Diego State basketball players actually came out putting on these clinics and took time in their day to give back to the community because that is what it is all about."
Not only did the kids have a great time, but smiles and laughter were seen from the players as well.
"The kids are amazing. It is really nice to pour into them and allow them to pour into me the same way," women's basketball forward Yo'Myris (Yummy) Morris said. "I am really enjoying this event."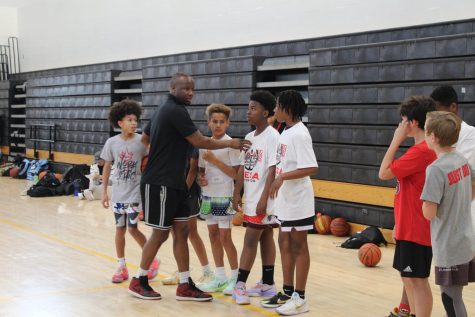 "I see these kids at our games," men's basketball guard Adam Seiko said. "For them to come meet us personally and put them through drills… I just love their attitudes, they are good kids and they all want to learn, so it's been great."  
In an ending game of knockout, fourteen-year-old Kannon Seals beat men's basketball forward Keshad Johnson and won free game tickets. Seals was confident from the beginning where the game was headed.
"I already knew I was going to beat him," Seals said. "It was a fun experience to interact with all the players."
Many parents attended the clinic, including Manny Lopez who had much appreciation for the Aztec players being there.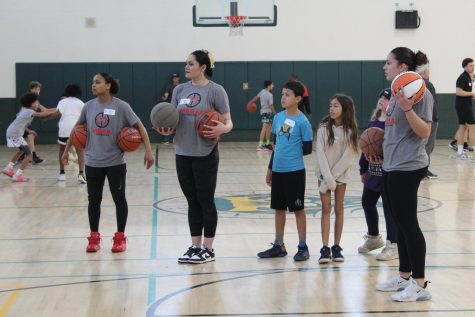 "Seeing the players, how they are carrying themselves, the girls and the boys, and how they are talking to everybody; they are just normal people, but we see them on stage like stars," Lopez said. 
The kids did see the players as stars. They lined up after the clinic to have their shirts and basketballs autographed by them. 
"This is home," Lopez said. "We were on the floor when (SDSU) celebrated the Mountain West and got to be with (Steve) Fisher and (Leonard). It was a once in a lifetime experience. Now, my son believes that this is a possibility for us too and wants to go to San Diego State. It's something we look forward to and know that it can happen, it's real."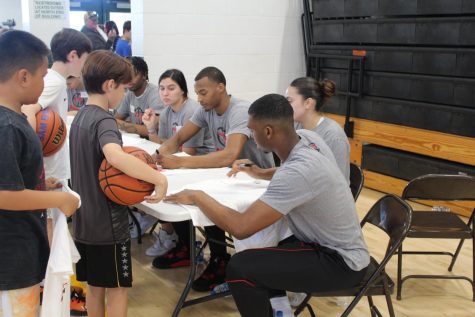 Since its establishment in the fall of 2022, the MESA Foundation has participated in the annual ALS walk in Mission Bay and also participated in a San Diego Food Bank event held at the New Season's Church in Spring Valley.
"I feel that the family environment that San Diego State has promoted and being involved with the community is a great fit with what we wanted to do as a non-profit with the MESA Foundation," Tetley said. "Choosing to do events like this and being able to give back to the charities like the boys and girls are a natural fit for what we are trying to accomplish."