Currently, both San Diego State University's men's and women's basketball teams are number one and two in the Mountain West Conference Standings. It is no wonder that on any given game day, spirited chants and applauds of Aztec pride can be heard echoing through the walls of Viejas Arena.
SDSU has nearly 500,000 alumni and many of them are fans of the basketball programs. It is because of the unification of these fans' admiration for the players and game that the MESA Foundation has found a way to bridge and deepen the connection of that community. 
Mentoring & Empowering Student Athletes, is a non-profit whose mission is to raise awareness for causes in San Diego by partnering local charities with SDSU student athletes. These athletes can use their social media platforms and influence to bring recognition to these charities and organizations.
The Aztecs' newest transfer Jaedon LeDee is one of the players who is a part of this program. He recognizes the importance of MESA's charitable work.
"Giving back to the community is something that we take very seriously," LeDee said. "We are glad we have the MESA Foundation for that."
This collective was created shortly after the Division I Board of Directors approved a new interim name, image and likeness (NIL) policy on June 30, 2021. 
The founders of MESA are an advisory board consisting of Jeff Smith, Peter Elia, Tommy Morris, Tom Newton, Mike Lalich, DJ Gay, and Jason Tetley, who are Aztec alumni, supporters, former Aztec athletes and local business leaders who are all volunteering their time to keep this program running.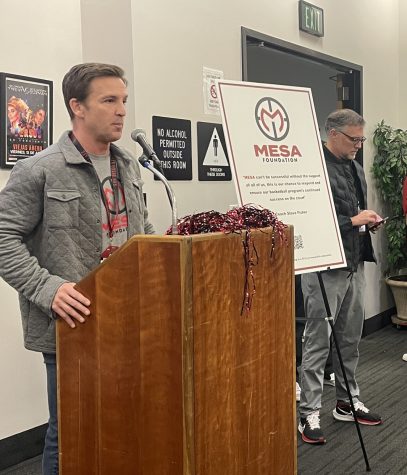 According to the MESA Foundation, what makes it stand out from other NIL collectives is that its primary purpose is to support organizations in San Diego, while educating athletes on the importance of giving back to their communities. Not only do athletes get to bond with the community but the community gets to bond with the athletes on a personal level. 
Between the women's and men's basketball games on Saturday Jan. 28, the MESA Foundation gave a presentation to alumni and fans at the Mezzanine Suite. 
Introducing the Mesa Foundation to the packed suite was SDSU's athletics director, John David Wicker. 
"I know everyone here has heard about name, image and likeness," Wicker said. "It's new in the NCAA and it's something that is very important if you are going to be successful at the level that we are currently at. NIL is something we are embracing."
When NIL was introduced a year and a half ago, one of the byproducts was that running a successful college basketball program depended on the support of the fans, which Jeff Smith and former coach Steve Fisher understand well.
"When I came here in 1999, I went out 76 times in a calendar year to (the fans) and (their) friends and said we need you, because no one was coming to the games," Fisher said. "I had tickets in my pockets, giving them away for a while and then (the fans) helped create what we have today. I am telling you now, we need you again. We need to continue having the success we are having with NIL and the MESA Foundation is doing it the right way."
Since its establishment in the fall of 2022, the MESA Foundation created a number of successful programs. MESA athletes participated in the annual ALS walk in Mission Bay. With the athlete's social media presence as well as their attendance at the walk, last year's ALS event exceeded its target raise by nearly $150,000 with a total of $439,000. The MESA athletes also participated in a San Diego Food Bank event held at the New Season's Church in Spring Valley where they handed out food to over 200 families and brought awareness to San Diego's underfed community.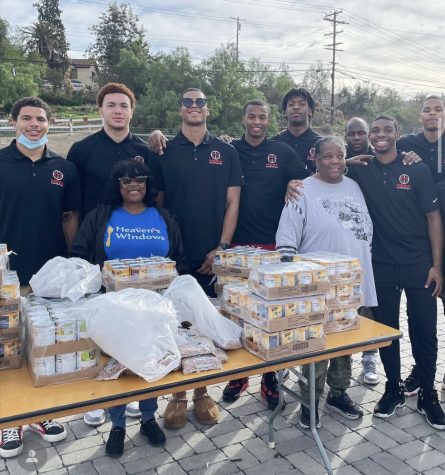 "Our task is to communicate to the people, fans and alumni that NIL in our platform is just as important to the continued success of the athletic teams as anything else that the coaches or athletic directors are doing," Smith said. "We want people to hear and we want people to feel like there's an even bigger connection than they have had before, that the team' success is dependent upon their support unlike any other time and that by supporting, they have the opportunity to get to know the players on a personal level while they are ensuring the program continues on the level that Aztec fans have all grown used to previous to the introduction of NIL."
Smith mentioned that competitive school collectives such as the MESA Foundation are taking off because NIL opportunities exist. 
On the homepage of MESA's website and social media, SDSU athletes' testimonials describe how the program has helped their personal lives. All the contributions that go into the foundation create a space for support between the players and the proud community that stands with them.
With current athletes involved with the program, future SDSU athletes are already showing interest. Aztecs assistant coach David Velasquez shared that transfers and high school students are asking about NIL at State. 
"As a coach, we can't get them deals with companies, but what we can do is educate everyone on how (the community) can help-with one of the main ways being through the MESA Foundation," Velasquez said. 
Anyone can contribute to the foundation. A tier system is in effect where at certain levels reached, donors can experience everything from meet and greets with the players to monthly autograph drawings. At the highest level of donation, a dinner event with players, coaches and their families is given.
MESA Foundation's next event is on Sunday, Feb. 5 where they are hosting a basketball skills clinic called "Assist 2023," which will be open to local 3rd-8th graders. Both men's and women's players will coach the youth.
Following a win over San Jose State, Aztec senior and lead scorer of the night Keshad Johnson spoke about his involvement with the MESA Foundation and the upcoming event. 
"I am definitely looking forward to it," Johnson said. "As a kid, all I wanted was to see somebody that is where I want to be and we are those people to the younger kids now. For them to see us, I love that feeling to just give back and give them a dream not too many people can have."
For more information about this event and to donate to the Foundation, visit www.mesafoundationsd.org.