A.S. update: Expanded crime alerts, Aztecs Rock Hunger, sustainability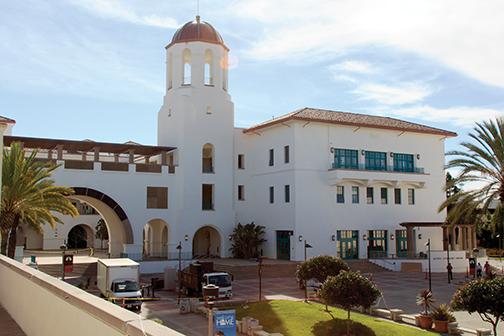 Campus safety, the Aztecs Rock Hunger campaign and sustainability efforts were the main topics of discussion at the biweekly meeting of the Associated Students Campus Life Council on Wednesday, Oct. 14.
In the Council Chambers of the Conrad Prebys Student Union, A.S. Executive Vice President Leo Carrillo led the meeting, and the head of each commission within the College Life Council gave a report of their recent activity.
COMMUNITY SAFETY
During the reports, A.S. Board of Directors member Trevor Yarnall brought up an incident that occurred Tuesday night, Oct. 13, in which three masked men, two of them armed, broke into a house on Mary Lane Drive and robbed a 25-year-old resident.
Yarnall said he was concerned he found out about the incident on Facebook when the event occurred so close to campus.
The committee members discussed the possibility of SDSU students receiving crime alerts for incidents that occur near campus and are handled by the San Diego Police Department.
"We have the power to fix this, so as student leaders let's get this done," Yarnall said.
CAMPUS FOOD DRIVE
A.S. moved on to discuss Aztecs Rock Hunger, a campaign where SDSU teams up with a local food bank to serve San Diegans who have little or no food available at home.
The Aztecs Rock Hunger campaign runs from Oct. 22 to Nov. 15 and starts with a kick-off event in the Templo Mayor room of the student union on Oct. 22 from 5-6 p.m.
Students can give money to the campaign online, donate at any Aztec Market or place non-perishable food in the red bins around campus.
The campaign's goal is to provide 300,000 pounds of food.
Other upcoming events for A.S. include California State Assemblymember Toni Atkins speaking at the Council Chambers Wednesday from 3:30-5:30 p.m. and professional body builder Erik Drendel speaking on Tuesday, Oct. 27 from 4-6 p.m. at the Park Boulevard Suite.
A.S. SAYS NO TO BROWN GRASS
Sustainability/Green Love Commissioner Megan Goodman discussed a recent trip to San Francisco State, where she saw the university had let its grass go brown in an effort to conserve water.
Goodman asked the other members whether this strategy would be beneficial at SDSU and about half of the committee members raised their hands to indicate that having green grass is important to them.
This led to a discussion of alternative methods for sustainability, including planting more native plants, putting up more signs around campus that inform students how to conserve water and correcting sprinkler inefficiencies.
CAMPUS SURVEY RESULTS RELEASED
Toward the end of the meeting, A.S. President Blaire Ward announced she had received the results of a survey conducted by A.S. earlier in the school year.
Ward said the purpose of the survey was to identify trends and give students a voice.
The survey had a response rate of 10 percent.
She said she had just started analyzing the survey results but shared a couple things that stood out to her.
Seventy-nine percent of respondents said they didn't feel like they knew who their student representatives were, but 53 percent said A.S. fosters an open environment and 67 percent said they had attended an event at the student union.
Ward said she would analyze the results and present the full findings of the survey at a later date.