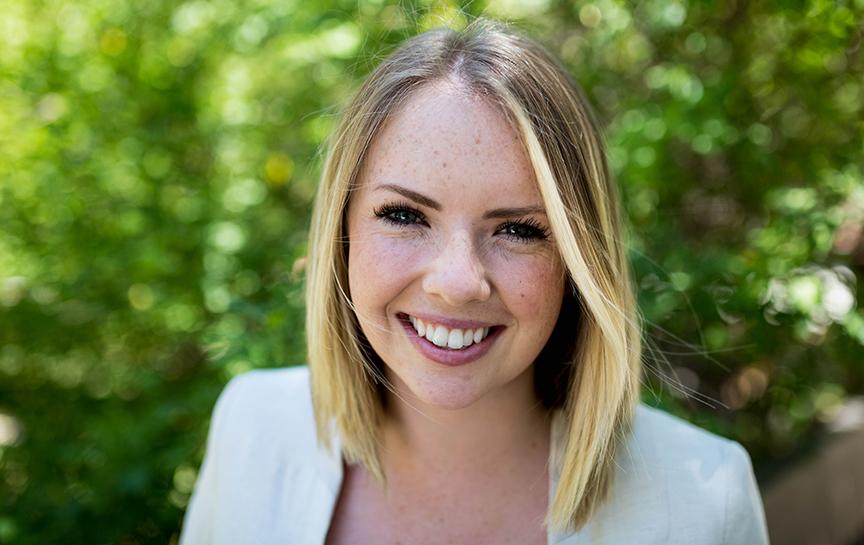 Megan is pursuing a bachelor's degree in journalism at SDSU. She is currently the photo editor at The Daily Aztec and has experience photographing a range of subjects from sports to breaking news as well as editing photos for web and print.
In summer, she joined
inewsource
as a multimedia intern where she works alongside investigative reporters to produce multimedia stories, interpret data and manage social media.
She hopes to pursue a career in photojournalism after graduation in May.
Megan Wood, Photo Editor
Dec 06, 2015

MW Championship game notebook: Jemond Hazely's career night aids SDSU conference title

(Media)

Nov 23, 2015

SDSU students demand action against Islamophobia on campus

(Story/Media)

Nov 23, 2015

Kell attempts to fix shot amid SDSU basketball's struggles

(Media)

Nov 21, 2015

SDSU basketball upset at home 49-43 by Little Rock

(Media)

Nov 10, 2015

Homecoming court goes gender-neutral

(Media)

Nov 02, 2015

SDSU men's hoops quietly begins 2015-16 season against Cal State San Marcos

(Media)

Oct 28, 2015

A look back at this week in Aztec sports history

(Media)

Oct 20, 2015

SDSU faculty holds on-campus demonstration for salary increase

(Story/Media)

Oct 14, 2015

Rakiraki's ramen reels in patrons

(Media)

Oct 14, 2015

Bar serves li-beer-ty and justice for all

(Media)

Oct 14, 2015

Eatery is Asian food lovers' dream

(Media)

Oct 07, 2015

Veterans center undergoes revamp

(Media)

Sep 23, 2015

Female a cappella group hits high note

(Media)

Sep 23, 2015

Aztec commuters form community

(Media)

Sep 18, 2015

Maclure goes the extra mile

(Media)

Sep 09, 2015

SDSU's Donnel Pumphrey: Football and fatherhood

(Media)

Sep 07, 2015

Atlas Genius show is larger than life

(Media)

Sep 05, 2015

SDSU football dispatches USD 37-3 in season opener

(Media)

Sep 04, 2015

Student band plays music like pixies

(Media)

Sep 03, 2015
Sep 02, 2015

Graduate students top charts

(Media)

Sep 02, 2015

Mortar Board nationally recognized

(Media)

Sep 02, 2015

Series honoring campus diversity kicks off

(Media)

Sep 02, 2015

Library Computing Hub: remodeled and reopened

(Media)

Sep 02, 2015

Three officers added to sexual assault prevention team

(Media)

Sep 02, 2015

SDSU and USD football renew a crosstown showdown with a troubled past

(Media)

Sep 02, 2015

Inequality in the checkout line

(Media)

Sep 02, 2015

Sousa: 'It feels that I have my rights back'

(Media)

Aug 26, 2015

California court makes CSU pay

(Media)

Aug 25, 2015

Mouth-watering restaurants await minutes from campus

(Media)

Aug 05, 2015

Campus internship program benefits students

(Media)

Aug 05, 2015

Zahn Innovation Center continues success in new location

(Media)

May 07, 2015

Senior farewell: Camille Lozano

(Media)

May 07, 2015

Senior Farewell: Elpin Keshishzadeh

(Media)

May 07, 2015

Students make furniture art with machinery

(Media)

Apr 30, 2015

Professor prioritizes research skills

(Media)

Apr 30, 2015

Course Key boosts campus interactivity

(Media)

Apr 28, 2015

Tasty Tuesday: Ice Cream Shops Invade San Diego

(Media)

Apr 23, 2015

New plaza offers mixed-use space

(Media)

Apr 20, 2015
Mar 14, 2015

Wyoming leads SDSU 28-25 at halftime in Las Vegas

(Media)

Mar 13, 2015

Aztecs, Cowboys set for shootout for MW Championship

(Media)

Mar 12, 2015

Aztecs outrun the hometown Rebels 67-64

(Media)

Mar 10, 2015

[VIDEO] South Campus Plaza Project

(Media)

Feb 16, 2015

[VIDEO] Student Showcase- Victor Gbenjo

(Story)

Dec 05, 2014

[VIDEO] Student Showcase – Evonte Jina

(Story)

Nov 14, 2014

[VIDEO] Student Showcase – Courtney Preis

(Story)

Nov 11, 2014

Students protest Alumni Association dinner

(Media)

Oct 24, 2014

[VIDEO] Student Showcase – Nora Sanchez

(Story)

Oct 17, 2014

[VIDEO] Student Showcase – Mario Haimes

(Story)

Oct 06, 2014

Aztec stars in MTV reality show

(Media)

Oct 04, 2014

[VIDEO] Student Showcase

(Story)

Sep 26, 2014

[VIDEO] Student Showcase – Cory Evan Cox

(Story)