Tasty Tuesday: Dan Diego's sham'rocks' St. Patrick's Day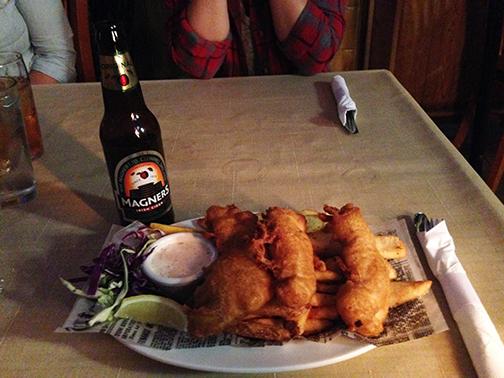 by Kalah Siegel, Staff Writer
March 17, 2015
Hang on for a minute...we're trying to find some more stories you might like.
Who feels like syllabus week started last Wednesday, and summer should be a distant thought a semester away? (I'm raising both hands). Where did the time go? I came back from winter break, blinked and now it's mid-March and today is St. Patrick's Day.
For those of you frantically flipping through your calendar making the same realization, fret not — we've found your St. Patty's Day destination. All you have to do is show up in something green.
You'll be hard pressed to find a more authentic Irish pub than Dan Diego's Euro Café and Pub on Morena Boulevard off of Interstate 5. Between the cuisine, beverage selection and ambiance, this place is practically an international flight to Dublin — in other words, this is where you want to be drinking a Guinness on March 17, if you are older than 21, of course.
Typically the pub is closed on Tuesdays, but like any good Irish bar, Dan Diego's will be open and celebrating St. Patrick with plenty of Irish liquor, food and green spirit for all. They'll even be closing off the parking lot to create a makeshift beer-garden, but don't worry, there's plenty of street parking.
Of course, it doesn't have to be holiday to channel your inner Irish spirit. Dan Diego's is a treat any time of the year.
If you're looking for an authentic Irish meal, you can't go wrong with the Open Faced Irish Ruben sandwich. Dan Diego's also does a mean fish and chips, though England might take the credit for the origin of that dish rather than Ireland.
Since you're already having a night out, you might as well indulge in dessert. In the spirit of authenticity, the bread pudding doesn't disappoint. However, if you're looking for a less adventurous option, the strawberry cobbler is equally fantastic.
As someone who's personally been to the Guinness Storehouse in Dublin, I can attest that Dan Diego's pours it right — and yes, there's a legitimate art to pouring a Guinness. The glass should be held at a 45-degree angle away from you during the pour to avoid excessive frothing, and the tap is pulled toward you. After filling the glass about three fourths of the way — or to the middle of the golden harp if you're using a proper Guinness glass — let the beer settle for about two minutes or until you see a distinction between the body of the beer and the creamy head. Finally, hold the glass level and push the tap away to fill your cup, and let it settle again. Then it's bottoms up!
In addition, Dan Diego's creates delicious Guinness-based cocktails that are definitely worth trying. There are quite a few on the menu, but we tried the black velvet, Guinness and cider, and it was excellent and unique. Cider, another European favorite, is a refreshing change of pace from beer altogether, in which case I'd recommended Magner's Irish apple cider. It's not too sweet, but still crisp and delicious.
Dan Diego's plays a mix of music, including plenty of genuine Irish tunes to set the mood. The local bar has a neighborhood vibe, so if you're looking for a comfortable community rather than a flashy night out, this is the place to go.
There's a classic saying that says, "Everyone is Irish on St. Patrick's Day!" So, Irish heritage or not, embrace the holiday with friends, food and fun. Celebrate responsibly and have a wonderful St. Patty's Day.