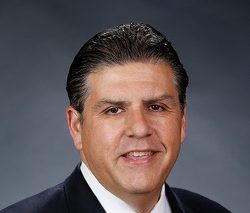 The California State University system has announced Dr. Joseph I. Castro will replace Timothy P. White as the system's eighth Chancellor, starting early next year.
The announcement was made through the CSU Board of Trustees meeting on Wednesday.
Castro is both the first California native and the first Mexican-American to serve as Chancellor of the CSU.
"I want to thank all the members of the Board of Trustees for your confidence in me during this consequential time," Castro said, during the live-streamed board meeting. "And I want to thank Chancellor White for his valued mentorship and support over the last several years. He definitely has big shoes that I need to fit into here."
Castro has served as President of Fresno State University since 2013 and has held leadership positions at five other California universities.
Chancellor White announced his retirement in October of 2019, after nearly eight years in his position. The board had planned to announce their selection of White's successor back in March, as White was originally prepared to retire last June. However, both actions were delayed due to the COVID-19 pandemic.
Former California State Students Association President and San Diego State alumnus Michael Wiafe served on the selection committee. He said he's excited for Castro's leadership. 
"He understands some of the challenges that students and the system are facing, and through some of his examples at Fresno State is committed to fighting them for a better future," Wiafe said. "As the first Mexican-American to hold the position of Chancellor, he also serves as a beacon of representation in higher education leadership, statewide university leadership is starting to more reflect the population of the student body both at CSU and UC."
In a statement, university president Adela de la Torre said, "As a native Californian and current president of Fresno State University, Dr. Joseph Castro is an excellent choice to lead CSU as the new chancellor. Dr. Castro and I both share deep roots in the Central Valley and fully appreciate how access to public higher education transformed our lives. He offers a timely and important perspective to the role of higher education, and I look forward to working with him as CSU's newest Chancellor. "