Lacrosse team ready to dominate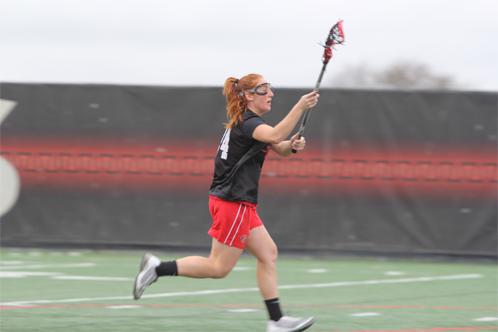 On Feb. 14, the San Diego State women's lacrosse team will begin its third season in program history and first season with upperclassmen on the roster. They were the 19th collegiate sport added to SDSU, making them the first addition since indoor track and field began in 2000.
They may be young, but on the field these Lady Aztecs are fierce and determined to one day be the best in the Mountain Pacific Sports Federation.
[quote]"I'm excited to see how far we go in the MPSF because every year we set different goals, and this year we are doing less of an outcome goal and more of a process type of goal," assistant captain and junior defender Lauren Paul said. "So I'm excited to see where we go and how much this impacts whether we do better than last year."[/quote]
In 2012, its first season in program history, SDSU had an overall record of 5-10 and a conference record of 2-5. The following season, the Aztecs improved their overall record to 8-8 and their conference record to 3-5. This season, they are driven to keep improving. What makes the 2014 season unique is that the Aztecs finally have upperclassmen on the team, which according to team captain and junior midfielder Christina Ricciardulli brings greater maturity and competitiveness among both the upperclassmen and lowerclassmen.
"More and more people are taking a leadership role, because now we're in our third season and we have two years underneath us," Ricciardulli said. "The freshmen are willing to push us and we're willing to push them, so I think it's a really good mix."
The 2013 recruiting class added nine freshmen to the 2014 spring season roster, two of which are goalkeepers who will be battling for the starting position.
Head coach Kylee White is impressed with all the freshmen and the hard work they've put into helping make the team better.
[quote]"As freshmen you're excited to come in and pick up right where the last team left off," White said. "They did a really great job of coming in and absorbing everything that we've done for the last two years, and each day we see such growth from them."[/quote]
The first four games of the season will be played away, with the season opener being against Winthrop University in Winthrop, S.C. The Aztecs won't play back home until March 8, against Boston College.
Until then, White doesn't see the consecutive away games impacting the team.
"Being away, I don't think will hurt us just because it's the first two games so they're amped up on that, and then the second away trip are conference games, so it's like a new start," White said. "Having two fresh starts so to speak doesn't hinder us at all, and it's just northern California for the second trip."
SDSU was picked to finish sixth this season in the 2014 Preseason MPSF Women's Lacrosse Coaches' Poll. Last season, the Aztecs finished fifth in the MPSF standings, and this season the Aztecs are even more driven to work as a team and prove everybody wrong.
[quote]"We're just excited, ready and determined to have a successful season … our main goal this year is to dominate now and excel together," Ricciardulli said.[/quote]
Photo by Adriana Bush, Sports Editor