A.S. votes against Israeli divestment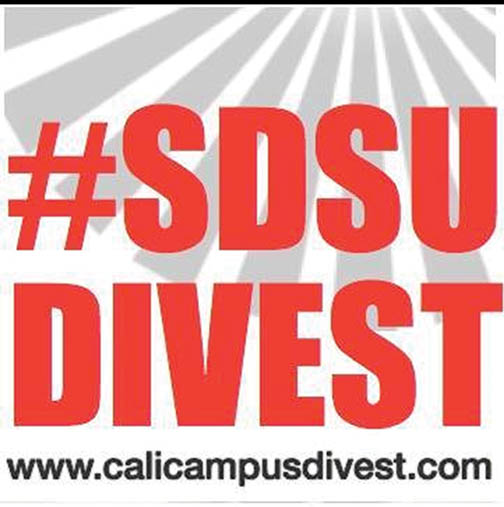 The Associated Students at San Diego State Student Affairs Board recently addressed students' requests to divest from certain companies they said "play a role in Israel's war crimes and human rights violations."
The resolution was introduced by Students for Justice in Palestine and the Student Union for Representation and Justice. They called for SDSU to stop investing in companies such as General Electric and Hewlett-Packard.
On Feb. 19 the Student Affairs Board voted 10-7 against the divestment of SDSU assets from businesses accused of profiting from the anti-Palestinian human rights violations of the Israeli military.
SJP President Nadir Bouhmouch urged A.S. to vote in favor of divestment.
"We choose this issue because it goes undiscussed," Bouhmouch said.
Voting member and sociology junior Corey Polant said many of the council members who voted against divestment were in favor of a more general resolution on human rights.
"We can never specifically address all human rights violators," Polant said.
Voting member and biology senior Hassan Abdinur, who was in favor of the resolution, argued that human rights violations need a specific and decisive resolution for any change to be made.
Voting members also voiced concern that calling out specific companies could affect the chances of SDSU graduates finding employment with those companies in the future.
Other points of argumentation focused on the role that A.S. should play in the matter. Many board members thought it would be inappropriate for student government to take a political stance and risks making Jewish students feel marginalized.
In response, pro-divestment students, such as voting member and sustainability and political science senior Josh Garman argued Palestinian students feel as though the university is expressing disregard for their interests by supporting these corporations.
"Not taking action is marginalization," Garman said.
A motion to table the resolution was proposed in order to allow for more information on the subject to be presented. This failed because the resolution had already been reviewed by the council three times.
Bouhmouch urged the council to consider the issue again in the future.
"(Nelson) Mandela said this is the moral question of our time," Bouhmouch said.
In response to the vote, Bouhmouch posted this statement on his Facebook page:
"The racists who supported segregation and apartheid yesterday find themselves shutting their mouths today lest they draw attention to the fact that they supported racism and oppression,"  Bouhmouch wrote. "Anyway, if you support racism today and refuse to see it even when the facts are right in front of you, good luck in 20 years because I'm gonna be blabbering away about what I supported today … "
Despite of this vote, student campaigning for divestment will proceed by taking it through the Student Diversity Commission.
SJP will continue to hold open forums on the resolution throughout this week. The next forum will be Monday, Feb. 24 at  6:30 p.m. at the Inter Cultural Center in the new student union.
Assistant news editor Luke Henning also contributed to this report. 
Photo courtesy of Facebook.