SDSU Mortar Board chapter establishes new scholarship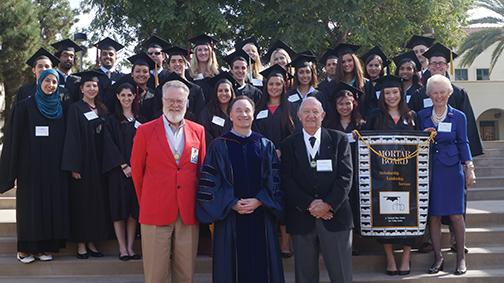 The San Diego State Mortar Board chapter, which received top national awards this summer, is developing a new scholarship for students that represent the chapter's principles of scholarship, leadership and service.
The Jane K. Smith Cap and Gown chapter of Mortar Board will award the $1,000 dollar Mortar Board Merit Scholarship to a student who has a minimum grade point average of 3.5 and will be a senior the following fall semester.
"We're really excited to launch this new program," President of the SDSU Mortar Board chapter Maxwell Louie said. "We think this is a great way to give back to the SDSU community,"
The scholarship application window will open Oct. 1. and close Dec. 1. Louie said the chapter hopes it will become an annual scholarship. The SDSU chapter's endowment fund will allocate money for the scholarship.
The chapter, which is composed of the top 40 seniors that apply annually, hopes the junior that receives the scholarship will eventually apply to become a Mortar Board member, Louie said.
In August, the SDSU chapter attended a conference in Atlanta, Georgia, where it received the Golden Torch Award. Louie said it is the second highest honor a chapter can receive, and, according to NewsCenter, it was granted to 24 out of 230 national chapters.
At the conference, the university chapter also received 22 Project Excellence Awards for various projects on campus and in the community and was also one of five finalists for the Ruth Weimer Mount Award, the top award for Mortar Board chapters, which the SDSU chapter received in 2003 and 2012.
A new project the Mortar Board chapter developed recently includes a new digital format to this year's academic planner.
"We felt that this would be a great resource for our students, and something that they've never really seen before," Louie said.
In addition, last spring was the first time the chapter used an online membership selection process.
Louie said his organization also worked heavily with other chapters. He added that it was also involved in volunteer service events, such as stocking stuffing for elementary students in Mexico and backpack stuffing for troops in collaboration with the SDSU's honors council.
Jane Smith, the chapter's adviser, said receiving top honors was no surprise to her.
"As an adviser, it has been exciting to see the chapter win top awards for their work as a chapter," Smith said. "However, I have been an adviser for the SDSU chapter for over 30 years, and they have always been one of the top chapters in the nation."
She added that the chapter has been successful over the years because of the support from faculty and the administration.
Louie credits the accomplishments in large part to last year's leadership team, specifically Megan Isaacson, the chapter's previous president.
"She really drove this entire process," Louie said. "And I really look up to her as a mentor. She's guided me this year and she helped me out a lot last year."
Applications for membership in the chapter are available in January and due in February. To be eligible an individual must be a full-time student with a minimum GPA of 3.2 going into their senior year in the fall. The top 40 applicants are selected.
The SDSU Mortar Board chapter is one of six multidisciplinary honor societies on campus.