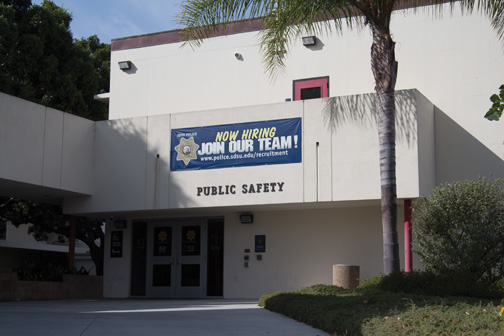 The San Diego State Police Department is working to better connect with SDSU students.
This semester, the department is working to increase its social media presence. The goal is to make students better aware of department services and community outreach events.
Air Force Reserve Officers' Training Corps student Daniel Friesen is an intern with the department and utilizes social media to increase the department's visibility within the community.
"We've realized that (social media) is a very powerful tool and it's a really easy way to broadcast information," Friesen said. "We're using that to provide safety alerts to the campus community along with the email system."
SDSUPD now has Facebook, Instagram and Twitter accounts. Friesen said the department uses these social network sites because SDSU students use these platforms the most.
Support Systems Coordinator Shawn Brown said although the department is trying to increase communications with the community, maintaining accuracy of the information is important.
"You want to make sure you're communicating the right thing, and miscommunications can be hazardous," Brown said.
Brown also coordinates the use of social media with big campus events such as performances and sports games.
He said students complain most frequently with regards to traffic and parking around campus. During high traffic events, Brown uses social media to post updates on crowded areas and which parking structures are closed or full.
Escort service use increases
As the department attempts to improve their relationship with the campus community, more students are using the campus police escort service.
Department statistics show that the number of students using the escort service has more than tripled since last year, from 134 in September 2013 to 416 in September of this year.
Brown said this increase could derive from a couple of different factors.
"It could be the cell phone thefts we had… students are becoming more aware of what's going on and what the potential hazards may be," he said.
Police officers, community service officers and part-time students run the escort service from 5 to 11 p.m. After 11 p.m., the service can be requested by calling the police department's Communications Center.
SDSUPD also provides a shuttle service from the library between 11 p.m. and 3 a.m., as well as a shuttle that makes stops around the campus perimeter from 5 to 10 p.m.
SDSU business major Jaclyn Murray used the shuttle service many times last year and said she would like to see the service extended to areas near campus.
"I feel like there are a lot of crime alerts off campus, in the surrounding areas," Murray said, "It would be nice if they took you a little bit further."
In an effort to improve response times of the escort service, Brown said the department is always looking to hire more student community service officers. For information on escort services visit SDSUPD's website.