Zahn Innovation Center introduces new funding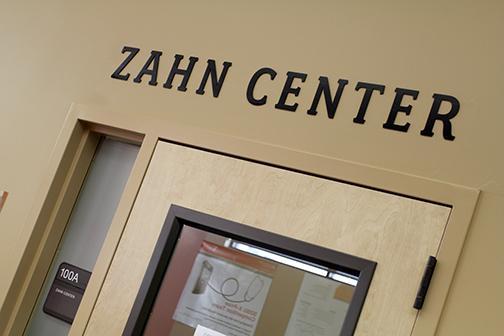 The Zahn Innovation Center at San Diego State has provided support to entrepreneurs on campus since its inception in March 2011, and is recently expanding its efforts by introducing the Zahn Success Fund.
The Zahn Success Fund is a grant for qualifying teams in amounts up to $5,000, to be used toward creating a prototype, building a brand identity, or any other areas that will advance the idea towards being a business. The goal is to give up to 20 grants per year, in varying amounts.
The funding is provided by SDSU, San Diego Gas and Electric, and the Moxie Foundation, which is the Zahn family's gifting arm.
"It's our intent to continue to grow it through philanthropic gifting," Executive Director of the Zahn Center Cathy Pucher said.
Previously, much of the support provided by the Zahn Center has been "in-kind," meaning teams had access to supplies, services and mentorship, but couldn't necessarily get funding behind their business idea. While the in-kind support is very valuable in advancing a business idea, the Zahn Center sought to go further and provide significant financial support as well.
Many entrepreneur teams found funding their idea to be a significant challenge, with some relying on outside investors or other sources.
"The intent is for this to be for teams who have really been able to demonstrate the validity of that idea and now have tangible things they want to use the money for," said Bhairvee Shavdia, director of social innovation and operating director of the success fund.
In order to be eligible to receive a grant, teams must be in good standing at the center, based on various milestones. According to Shavdia, grants are meant to facilitate prototype and operational development.
"One of the reasons that we did this is and that we're so excited to have this success fund is because it's another resource we're providing to help remove barriers to starting a company," Pucher said. "So we want to create a level playing field for ideas to flourish regardless of economic background or the access to money someone may or may not have. And so if they have the idea and they will to bring it to life, then the ZIC is a place for them to come and be supported."
The goal is to disperse some of the funds in the spring, though final details are still being ironed out. The center also recently announced this year's Zahn Challenge, another opportunity for entrepreneurs to gain funding for their idea. The deadline to apply to the Zahn Challenge is Feb. 13, with an award ceremony on March 6.
The Zahn Innovation Center is open to students, staff, and faculty at SDSU who have a business idea that they would like to explore, focused either on social innovation or for-profit businesses. To learn more, entrepreneurs can visit the Zahn Center website, or visit the center itself, located in the Industrial Technology building.