Campanile Foundation chair to fuel SDSU fundraising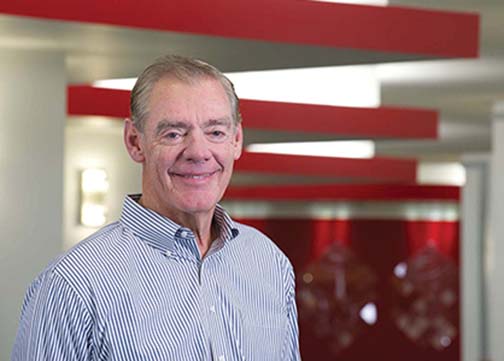 Since earning his master's in public administration from San Diego State in 1976, Jack McGrory has played a key role in the growth of the university, serving as a faculty member and a donor. Now he is the chair of the Campanile Foundation, SDSU's fundraising branch.
His new role allows him to work toward the goal of raising $750 million through The Campaign for SDSU. He said there is about $200 million left to raise before that goal is reached.
As the board chair of the Campanile Foundation, McGrory is responsible for continuing the momentum of The Campaign for SDSU, which means raising approximately $100 million annually for the university.
"We've become much less dependent on state funds in the last 6 or 7 years and much more dependent on philanthropic activities," McGrory said.
He said the Campanile's main objectives are to help fund the new engineering building being developed and increase the number of scholarships the foundation provides. He also said increasing the Campanile Foundation's endowment is a priority, hoping to boost it from $190 million to $250 million.
Keeping that upward momentum can be a challenge, but McGrory said the foundation relies on a combination of alumni support and outside support from people who care about SDSU as a proponent for success in the region.
"We are a tremendous job generator and very important part of the regional economy, so we have some companies that give us money as well," McGrory said.
McGrory has been in this new position for about a month, and said he's enjoying it so far.
"It's just really fun to be around all the students and faculty, and it's become a really great university," he said. "It's a challenging role, but we'll make it, and the goal is to make San Diego (State) an even greater university, both academically and athletically."
McGrory has also made significant financial donations to The Campaign for SDSU. He said he has donated $2.8 million, split between the School of Public Affairs, the Classics Department and the Joan and Art Barron Veterans Center.
He is involved in the Veterans Council and the Public Administration Task Force, as well as the Government and Community Relations Committee, the Executive Committee, the Campaign Cabinet and the Campaign Leadership Committee.
McGrory spent four years serving in the Marine Corps before working as an administrative trainee for the city of San Diego, a job that allowed him to pursue his master's degree with night classes. After obtaining that degree in three semesters at SDSU, he went on to get his law degree from University of San Diego. He continued working for the city during this time, and eventually became City Manager. He began teaching at SDSU in 1981, and he has continued to teach ever since. Currently, he also works as the CEO of La Jolla MJ Management LLC, a real estate investment company.
He will serve as the chairman for the Campanile Foundation for a three-year term.