Women's hoops continues its road woes at Boise State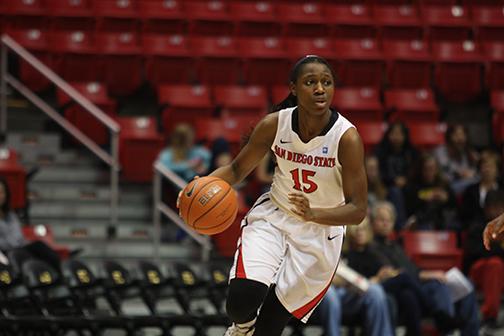 The San Diego State women's basketball team's battle with the road continues as it lost Saturday 64-58 against Boise State University in Taco Bell Arena.
The Aztecs still have been unable to solve their road woes, as this loss drops them to 2-10 on the road this season, with their only wins coming against Utah State University and the Air Force Academy, who are combined 10-46.
Unfortunately for SDSU (10-17, 7-9 Mountain West) Boise State (18-9, 10-6 MW) highlighted and exploited the Aztecs' weaknesses. BSU forced 18 SDSU turnovers and converted that into 20 points. The red and black did not fare any better at the charity stripe, as they only made 12-20.
However, both teams still made 22 field goals each. The difference being the Broncos were 7-21 from the 3-point line, while the Aztecs continued to struggle shooting from beyond the arc, going 2-11.
Boise State was also able to boast four players that finished with double-digits in points, including freshman forward Shalen Shaw who tallied a game-high 15 points. SDSU, on the other hand, did not have a single player score more than eight points.
Regardless of SDSU's miscues, the outcome of this match was not certain until the waning seconds, as these two teams battled all afternoon long in a back and forth affair.
The first half saw both squads trade runs, with the score going over two possessions for only 24 seconds. Neither team wasted anytime to put points on the board, as they combined to go 7-8 from the field to open the game with the Broncos leading 9-6.
After Boise State senior forward Deanna Weaver made a layup, the Aztecs went on a 6-0 run to take their first lead of the game. However, that lead was short lived as the Broncos went on a 12-3 run over the next six minutes. SDSU responded with a 7-0 run, five of the points coming from freshman guard Lexy Thorderson.
SDSU took a 30-29 lead with 34 seconds left in the first half on layup from freshman point guard McKynzie Fort, but that was too much time for Weaver, who sank a jumper with only five ticks left in the half.
The final 20 minutes was a one-possession contest until 3:50 left in the game. That mark can be attributed to both sides going 22-37 in the second half from the free-throw line, preventing either team opening a comfortable lead.
The Aztecs will play their final home game this Tuesday, when they take on University of Nevada, Las Vegas (13-14, 10-6 MW) at 6 p.m.