Lofty hopes await SDSU football in 2015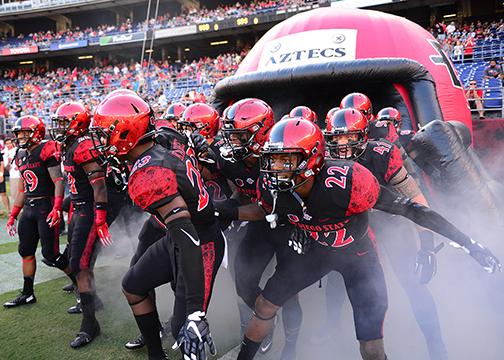 Records have been broken, streaks have been established and winning is the standard, but no longer is that enough.
Atop Montezuma Mesa, championships are now expected and San Diego State football has the team to capture one.
A program that just a few years ago could not even find its way on a sports station's score ticker is now a step, albeit a sizable step, from winning its first outright conference championship since 1986.
The Mountain West media, as well as a litany of other media outlets, realize the Aztecs' potential heading into this season.
For the first time in the 17-year existence of the MW, SDSU was selected to win its first title.
It doesn't hurt that the boys playing on blue turf, Boise State, are not on the schedule this season and that key conference games will be played at Qualcomm Stadium.
However, the Aztecs' championship aspirations stem from these scheduling quirks.
So what are the expectations for SDSU?
Well, let's break down the three phases of the game and see what might make this Aztec team a MW champion this season.
OFFENSE
Let's be honest, there is only one name that fans need to know when it comes to the SDSU offense: junior running back Donnel Pumphrey.
OK, that was an exaggeration…sort of.
Offensively, this year's Aztecs will appear similar but also foreign to last season.
A season ago the passing game was marred by injuries that resulted in a one-dimensional offense, but the coaching staff is confident in this year's passing game.
"I think we have a better quarterback situation than we did last year," head coach Rocky Long said. "I don't think we were ever confident with the backup situation last year. We feel very fortunate that we have a backup quarterback that we consider good enough to have been the starter (this year)."
The coaching staff doesn't feel the same confidence with the wide receivers.
"Instead of bringing in an extra wide receiver, we think some of our tailbacks are our best guys in space, so you try and get them the ball in space," Long said.
Even though the passing game appears headed for another year of mediocrity, the most worrisome aspect of the offense is the big guys in the trenches.
"I think we're concerned a little about the offensive line because we have some guys playing there that haven't played there before, so we're worried about the experience factor there," Long said.
Graduation and suspension has thinned out the line and forced a couple of players to change position.
With the stable of talented running backs led by Pumphrey, any deficiency should be masked.
DEFENSE
It's scary to imagine what this year's defense will be capable of with eight starters returning to a unit that ranked No. 13 nationally in scoring defense and No. 16 in total defense.
What makes last season's defense that more impressive was that six of the 11 starters were sophomores or younger.
To have such a young defense put up the numbers it did, it wouldn't be a surprise to see an improvement compared to last season with a full year under its belt.
"We have a lot of experience coming back," Long said. "They played really well last year, so we should start ahead because of experience."
But what makes Long's defense so potent, besides ranking No. 10 nationally in passing yards allowed per game (178.5), is that all five defensive backs return from last season.
Why is that important?
Because the amount of schemes, stunts and blitzes the secondary has to know is overwhelming.
To have five players that excelled in those positions come back is nothing short of a miracle.
"They should be confident and we'll probably do some things that we didn't do with them last year in terms of disguising coverage scheme-wise," Long said.
Of the three new defensive starters that weren't starters last season, only junior-college transfer middle linebacker Randy Ricks has no experience in game situations with SDSU.
Senior defensive tackle Christian Heyward and senior linebacker Jake Fely are the other two of the three non-returning starters.
Both those players have had a problem in their college careers, though: injury.
Heyward didn't even suit up for the first two games last season, as he was still recovering from an injury sustained during that summer.
Fely had his 2014 season ended prematurely due to a dislocated wrist.
SPECIAL TEAMS
Not enough can be said about senior kicker Donny Hageman.
In 2015 he single-handedly cured the Aztecs' kicking woes from the prior season and quickly made a name for himself as one of the more reliable kickers in all of college football.
It wasn't a shock to see him being named to the MW Preseason All-Conference Team and the Lou Groza Collegiate Place-Kicker Award watch list, or to see him named the MW Preseason Special Teams Player of The Year.
NEW COACHES
SDSU has a few new coaches this year.
Hunkie Cooper is now the wide receivers coach after a stint as head coach at junior running back Donnel Pumphrey's alma mater: Canyon Springs High in Las Vegas.
Bobby Hauck is the new special teams coordinator. He was UNLV's head coach last year.
Blane Morgan is the new quarterbacks coach. He was at Air Force last year.