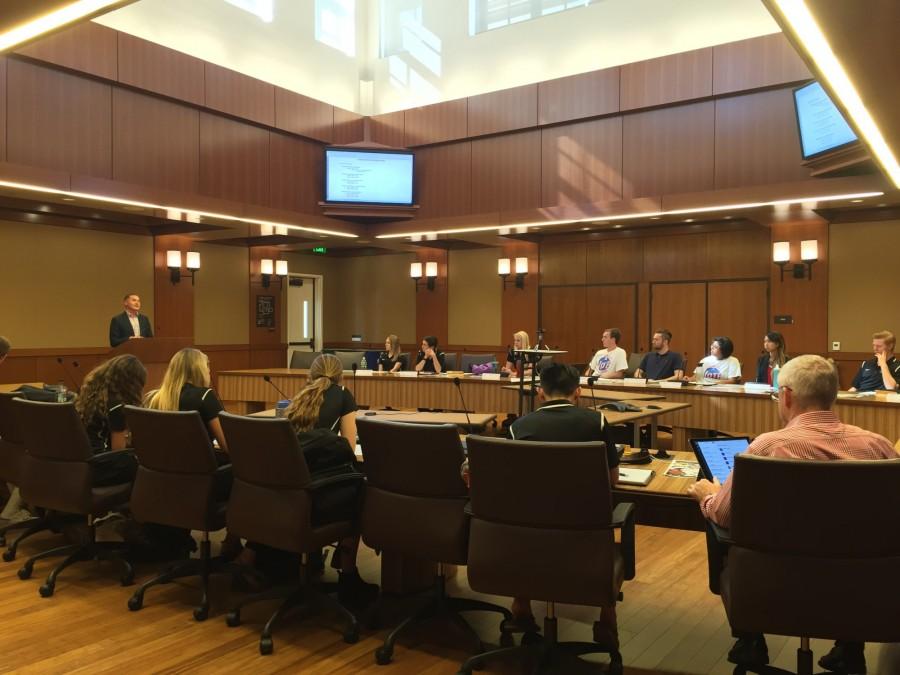 The Campus Life Council Commission welcomed guests from Zipcar, Career Management Developer and The University Senate and Review Committee in their meeting on March 16.
Zipcar
Zipcar San Diego marketing coordinator Rebecca Bertone spoke to A.S. about Zipcar's presence on college campuses.
She said Zipcar is on more than 500 campuses, has more than 950,000 members and more than 10,000 cars.
Gas and insurance is included and members have the option of reserving cars, paying per mile or paying per hour.
Career development manager
SDSU career development manager Bradley Loomis spoke about the graduate outcome survey that will be sent online to all graduating seniors on April 5.
He said it is a 5-7 minute survey with the purpose of finding out what students plans are after college.
Dean of Students
Dean of Students Dr. Randy Timm said that a new apartment-style residence hall is breaking ground next year. He said it will be four stories tall and contain 350 beds.
Timm also said three gender-neutral bathrooms are being built. They will be located in the Love Library, Calpulli Center and Peterson Gym.
"The goal is to have a gender-neutral bathroom within two minutes walking distance at all times," Timm said.
Recreation and Wellness Commission and Student Support Commission
Recreation and Wellness Commission Representative Michael Liu said President Hirshman joined students on a "Live Well Aztec Walk" on March 15.
Recreation and Wellness Commission Chair Chris Thomas said SDSU is the first school in the San Diego region to be an official Live Well partner.
Student Support Commission Representative Jack Doheny said the police app will be launched after spring break.
Sustainability/Green Love Commission and Campus Community Commission
Sustainability/Green Love Commission Chair Megan Goodman said conversation about how SDSU can transition out of plastic bags in Aztec Shops is happening.
Campus Community Commission Representative Suraj Patel said he is receiving positive feedback from residents living in the SDSU area. He said that a resident told him that for the first time in five years an SDSU student living next door introduced themselves to him.
The University Senate and Review Committee
The University Senate and Review Committee asked the A.S. Campus Life Council Commissions questions to make sure A.S. is in alignment with the university. College of Business Administration public affairs officer Suzanne Finch, assistant professor of graphic design Patricia Cué and Associate Dean for Academic and Faculty Affairs Dr. Cathie Atkins made up the committee.
Cué asked the commissions what they do to attract diverse students.
"The biggest mistake is to assume what people want," Student Diversity Commission Chair Arnelle Sambile said. "We ask students what they want to see and what they would like us to do for them."
Spring events
Community Service Commission Representative Meghan Andrade said the community service fair will be on April 26. Of the 30 organizations at the event, five will be student organizations.
Timm said OneSDSU Community is collaborating with the city of San Diego for a Cinco de Mayo event at Balboa Park. Buses will be provided as free transportation.
Aztec Student Union Board Representative Vanessa Girard said ASUB is planning an event for late April called "Let's Talk About Relationships."