Proposed SDSU West Campus plan unveiled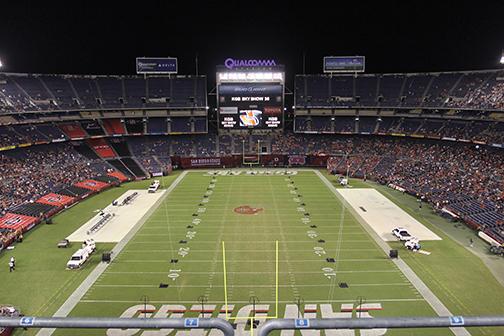 With the Chargers looking to move downtown, there has been much discussion about what would happen to Qualcomm Stadium.
One proposal, discussed in a meeting in Montezuma Hall on Tuesday, April 5, aims to turn the property into a satellite campus for San Diego State.
The proposal presented by JMI Realty and Cisterra Development offers a plan that would transform the current stadium into a "West Campus" for SDSU.
The West Campus plan includes ideas for both educational facilities and a smaller stadium.
Despite hosting the event on campus, SDSU has not endorsed any particular development company or plan for the property, nor have officials confirmed any plans to move forward in development.
However, in a blog post published during the meeting, President Elliot Hirshman wrote, "We see a future in Mission Valley with community parks and recreational opportunities, low- to medium-density housing, a small number of research/technology transfer facilities and, possibly, a stadium — one on a significantly smaller scale than Qualcomm Stadium — that could be shared by San Diego State, a Major League Soccer franchise and other community partners."
Some students are skeptical about the idea of a campus in Mission Valley.
"That's not too far, but it's still far enough away that I would have to drive," child and family development junior Katrina Skjonsby said. "I live close to campus, so I would probably drive. I guess it's good for people who take the trolley though."
"I really think we have plenty of room on this campus, and we don't need to spend money on building a new one," Spanish junior Nick Baxter said.
There is no public information on how much the potential rennovation would cost or when it might be completed. 
This meeting, hosted by the Corky McMillin Center for Real Estate, took place a week after the San Diego Chargers announced a $1.8 billion proposal to leave Mission Valley and pursue a stadium in downtown San Diego.
Development on the Qualcomm property is contingent on whether the Chargers' plan is approved. The NFL has also offered the team the option of pairing with the Rams for a stadium in Inglewood.
Editor's Note: This story has been updated to correct an error regarding increased funding for the university.