University, College Republicans continue to dispute facts on Yiannopoulos cancellation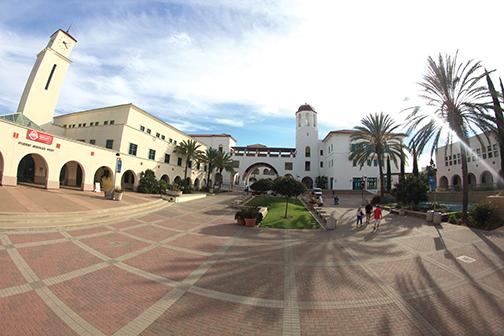 University officials have not updated the San Diego State College Republicans on when Milo Yiannopoulos will be allowed to come to campus, organization president Brandon Jones said Oct. 12.
In a statement released a week earlier, the SDSU College Republicans said administrators had cancelled Yiannopoulos' Oct. 29 event, which they had just announced in September.
The club said members met with university leaders the morning of Oct. 4 to discuss the logistics and security costs of bringing the controversial figure to campus.
"Instead, we were blindsided by university leadership with the cancellation of our event," the organization's statement said.
However, university spokesperson Christine Hutchins disputed the accuracy of this.
"(T)he university did not 'cancel' the Milo Yiannopoulos speaking engagement as there was no confirmed event to cancel," Hutchins said in an email Oct. 10.
She said the College Republicans had only asked the university to place a hold on Montezuma Hall in the Conrad Prebys Aztec Student Union for Oct. 29. The hold, Hutchins said, was subject to certain conditions, including the submission of a draft speaker contract and a security needs assessment from the San Diego State University Police Department.
Because of a church service event held in the union an hour before the Yiannopoulos event's proposed 9 p.m. start time, Hutchins said police determined a security inspection would not be feasible.
"The Conrad Prebys Aztec Student Union venue's footprint is over 200,000 square feet," Hutchins said in an email. "Based on collective input from the law enforcement planning team, a six-hour lead time is necessary … estimates of approximately 15-20 bomb dogs were noted."
Hutchins also said the university has a "long-standing commitment to free and open inquiry."
SDSU supports and promotes freedom of expression by all students, faculty and staff, subject to regulations regarding appropriate time, place and manner, and is willing to work with the College Republicans to find a later date for the Yiannopoulos event, she said.
Jones said he thinks the university is paying lip service but is doing little to actually make the event — which was arranged for Montezuma Hall, a small part of the entire student union — happen.
"They feel like they keep having to reiterate that they have this long-standing commitment to free and open inquiry," he said. "I think they do, I think they're right. They do for leftist students. I don't think that they have that same feeling toward conservative students on campus."
If the university wanted the Yiannopoulos event to happen, Jones said, administrators would make it happen.
"If it takes 15-20 bomb dogs to do it in six hours, I think they should find 45-50 bomb dogs to cut it down and have the manpower to do it in two hours."
He also said he knows from experience that the university can speed things up if they want to.
"For all student organizations, it takes three weeks to request a meeting space," he said. "We were able to do it in less than 24 hours and have a meeting space for the rest of the semester. So, yes they have guidelines set in place. But I think if they want to expedite that process, it is well within their power."