Water polo set to host Aztec Invitational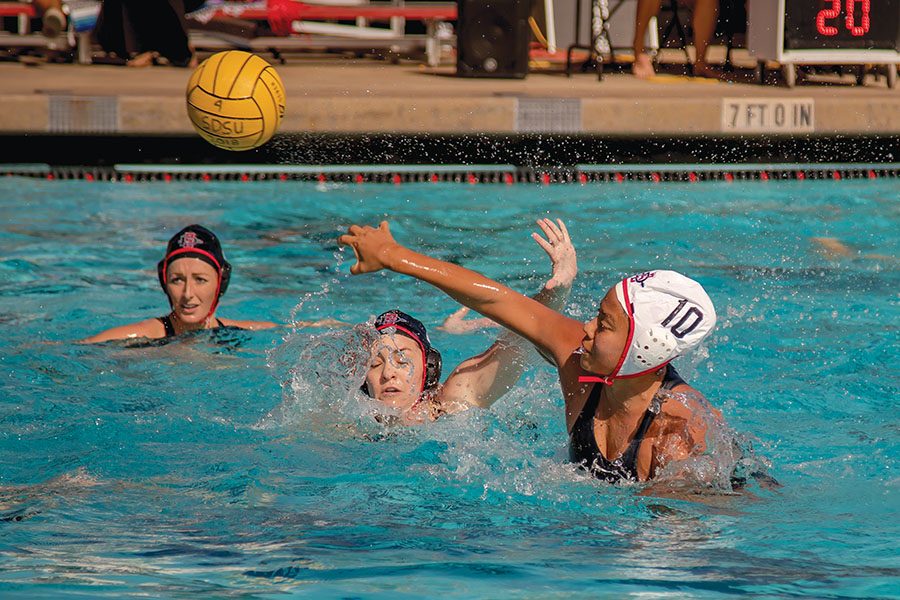 San Diego State water polo is finally coming home.
SDSU's season started officially back on Feb. 3, when it defeated Harvard University by a score of 10-8 in Providence, Rhode Island.
Over one month later and the Aztecs are 13 games into their season, and yet to play a match in the home pool at the Aztec Aquaplex.
SDSU will finally christen the home pool in their official home opener against Loyola Marymount University on March 9, before hosting the Aztec Invitational which runs from March 10-11.
Harvard University, Sonoma State, No. 5 University of Hawai'i and Bucknell University will all be participating in the tournament alongside the Aztecs, and SDSU head coach Carin Crawford said that the school is excited to play host.
"I'm really looking forward to welcoming all those teams," Crawford said. "They're all on their spring break, so we really get to show off this environment, and they really like to come to San Diego and play outdoors."
Junior driver Hannah Carrillo, who is second on the team in goals scored with 18, said it will feel good to be back on the Mesa.
"We're just really excited to be back here," Carrillo said. "It's just always fun to see the pool set up over here, and it's just a lot more competitive… it's about time."
The Aztecs have struggled to an overall record of 5-8 this season, after playing in tournaments in Rhode Island, La Jolla and Newport Beach.
Despite its record, the team is still ranked No. 20 in the nation, and will have an opportunity to show their home fans that brighter days are ahead as the schedule inches closer to Golden Coast Conference play.
"We are still in the beginning part of our season and it's just tournaments," Carrillo said. "It's the time to really learn from our mistakes and just kind of figure out what we are going to do for conference."
One player who will be playing in their first home game for the Aztecs is freshman utility player Emily Bennett, who currently leads the team in goals (28), steals (30) and ejects given (18).
"I think if we have a lot of people in the stands we are definitely going to have a very hyped game," Bennet said. "I think that will push us to work even harder, and we want to show what we can actually do. All the people in the stands will be like 'wow they're here to play'."
The Aztecs will start off the invitational with a rematch against Harvard on March 10, with the Crimson looking to avenge their loss from back in February.
Crawford said that her team is familiar and matches up well with Harvard, but expects the visitors to be looking for revenge.
"(Harvard's a) fast team, so I think we match up well with mobile teams versus real big kind of physical teams," Crawford said. "I think we have a little bit better idea of how they play, but I know they'll be looking for revenge."
Later in that same day the Aztecs will take on Sonoma State, which the team saw at the Triton Invitational but did not play against.
"We've had a look at them and I think they're a very good team and have been kind of flirting with the rankings," Crawford said.
SDSU will start day two of the event with a match against No. 5 Hawai'i, which will be a chance for the Aztecs to get some revenge of its own after losing to the Rainbow Wahine 13-4 on Feb. 23.
Crawford said the Aztecs will attempt to use the knowledge they have from having played Hawai'i before to gain an advantage on their home turf.
"Familiarity is a great benefit," she said. "Just knowing that we are going to get a second crack at them at home is something we're all looking forward to."
The Aztecs will complete the tournament later in the day with a matchup against Bucknell, which will be their fifth game in three days and fourth in two days for the Bison.
Crawford said that whichever team has the most energy in the game will likely come out the victor, and she likes her team's chances thanks to a deep bench.
"That should be a great game and kind of a test of who's the fittest team," she said. "I will say we've got great depth on this team, so we can keep fresh bodies coming at them and I think we'll have a size and speed advantage."