Aztec Nights hosts late-night events for students to meet each other on campus
With the beginning of a new semester comes the return of Aztec Nights, which are free late night events hosted by San Diego State for students.
Aztec Nights started in 2008, and have become a year-long campus tradition for both new and returning students.
From 9 p.m. to 2 a.m. on Thursday, Friday and Saturday nights, the campus transforms into a unique late night experience for all students to see.
This year's lineup of events features many new activities to see and do.
From Lite It Up, an LED light party, to Casino Night, an event with games and a chance to win big prizes, Aztec Nights provides many opportunities for students to enjoy some late-night fun that is free and close to their dorm, apartment or home.
Aztec Nights coordinator Jessi Moore said the student response to Aztec Nights throughout the years has been really positive, which opens the door for more students to attend events in the future.
"It is definitely an opportunity for students to meet new people and connect with the university from the moment you step foot on campus," Moore said.
Moore also mentioned that because the campus and student population are so large, Aztec Nights allows for students to meet others in a smaller setting rather than around 35,000 students.
Aztec Nights is also known for events such as Templo Del Sol and the Red and Black Dance, which are the main highlights of Welcome Week. Welcome Week is the first week students are back on campus.
These events serve as the first late-night events that welcome students to campus and usher them into the fall semester.Students will have a chance to experience Aztec Nights early and often, with seven events in the last two weeks of August and another seven in September.
The first four Aztec Nights events that kick off the new semester are Templo Del Sol, Back To State Bash, Red and Black Dance and Screen On The Green.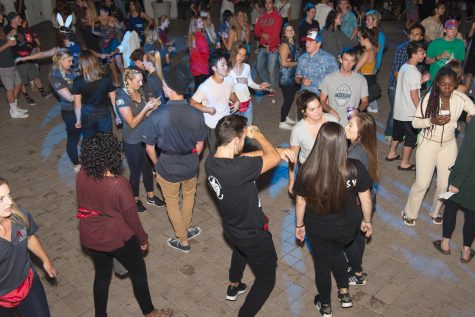 On Aug. 23, new students can check out the annual Templo Del Sol event from 9 p.m. to midnight at Hepner Hall.
This event introduces them to the nightlife and traditions of SDSU, featuring free food, an icebreaker game and campus traditions.
Some of the traditions at this event include the Hello Walk through Hepner Hall and singing the fight song.
That same night, returning students can check out Back To State Bash at Conrad Prebys Aztec Student Union from 10 p.m. to 2 a.m. This event will bring students together for a late-night party featuring free food, games and music.
Next, on Aug. 24 from 10 p.m. to 2 a.m., students can dance the night away at the Red and Black Dance.
The dance party features a DJ, free food, an obstacle course, caricature drawings and many more activities to treat students to a good time.
Lastly, on Aug. 25 catch Screen On The Green,  which is a movie showing from 9 p.m. to 1 a.m. on the Aztec Green. This year features a screening of Marvel's "Avengers: Endgame," the newly crowned highest grossing film of all-time, according to Box Office Mojo. Along with watching a free movie, students receive a free Aztec Nights blanket, sliders and fries from the Super Q food truck.
Aztec Nights events are available year round on select Thursday, Friday and Saturday nights from 9 a.m. to 2 p.m.
Some other notable events to check out are the Campus Carnival on Friday, Aug. 30, and the Dragstravaganza, a drag show,  on Saturday, Aug. 31.
Chemistry sophomore Diva Zeckua attended Aztec Nights for the first time last year and said she immediately felt like she was a part of campus.
"I liked that it gave me the opportunity to meet new people right away, and I immediately felt I was a part of the Aztec family," Zeckua said.
Aztec Nights has become a creative way for students to meet people and make new friends for the new year. Students feel more connected to campus after attending these events put on by the university.
Nursing sophomore Gillian Werolin attended Aztec Nights last year as well and said the events are a great way for students to bond with others and meet new people.
"They are super fun and a lot of students came out to them," Werolin said. "It's a great way for first year students to meet new people and create a community at the school."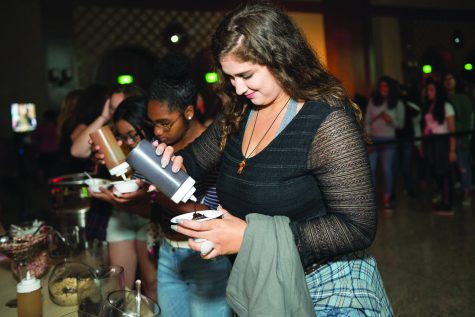 General business sophomore Emily West went to a few events as well. She encourages students to check out Aztec Nights, especially if they are new to campus.
"I think other students definitely should go because it's a cool way to meet people and hang with new friends," West said.
For more information about Aztec Nights, go to SDSU's Aztec Nights webpage.
Devin Whatley is a sophomore studying journalism.