Recognized author returns to alma matter for professor position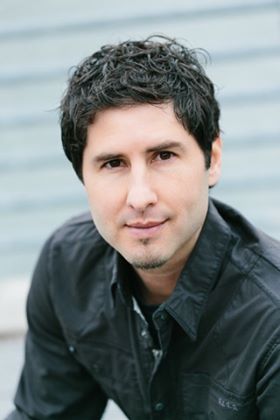 This fall, alumnus Matt de la Peña,  author and winner of the John Newbery Medal in 2016 for his book "Last Stop on Market Street," returned to his alma mater, San Diego State.
De la Peña returned not as a student, but as a professor for the English department. He wants to return the favor for all SDSU has done for him in providing him the opportunity to develop and improve as a writer and author.
"I went to SDSU for graduate school," de la Peña said. "When I was a student, I used to dream of publishing a book. But first I had so much to learn." 
De la Peña said he credits his success as a writer is in part to his teachers and the knowledge they instilled in him as a graduate student.
"The faculty at SDSU taught me everything I know," he said. "I'm so thankful for my time at state," he said.
De la Peña is teaching three courses for the English & Comparative Literature Department this fall semester, where he said he hopes to help students chase their dreams and highest aspirations. He is teaching a course on contemporary literature, creative writing and writing protagonists.
"I believe SDSU attracts the exact type of student I want to work with," he said. "There is no sense of entitlement, just raw talent and passion. I want to let students tell stories and help them avoid the mistakes I made along the way."
After leaving SDSU in 2000 with his Master of Fine Arts degree in creative writing, he went to the east coast to pursue his writing career. 
"I've always felt this need to create," he said. "I have all these stories in my head, and I wanted to share them."
His need to create led to the release of seven young adult novels and five children's books. One of those children's books, "Last Stop on Market Street," won the John Newbery Medal in 2016. De la Peña saw that as a life-changing experience.
"It was beyond any expectation I had for myself as a writer," de la Peña said. "At that point I had published ten books or so, and they were doing really well, but the Newbery is the highest honor in the field." 
It was quite the moment for de la Peña when he got notified of the award.
"They call you in the middle of the night, by the way, to make sure the information isn't leaked," he said. "I was asleep when I took that call. So I wasn't totally sure it was real until they announced it nationally the following morning." 
He said the best part about winning the medal is the exposure his story was able to get with young readers.
"I have to say, the best part of the Newbery is that my book has made it into the hands of millions of young readers," de la Peña said.
As he looks back at his career now and his time as a student, de la Peña said he feels a sense of humility with what he has done and what he has in store for the future.
"When I was an MFA student, my dream was to publish a single novel, to see it on the shelves of a bookstore," he said. "I figured I'd be bussing tables at a seafood restaurant to help support myself while I tried to write my novels. I had no idea that I would go on to publish 17 books, support my family as a writer and return to SDSU as a professor. I feel very fortunate.
As the fall semester kicks in, de la Peña is excited to be back – but on the other side of the classroom.
"It's a thrill to come back to campus on the other side of the equation," he said. "As a professor, I hope to help students achieve their own writing dreams."
English & Comparative Literature Department chair Phillip Serrato said he is excited to have de la Peña back on campus as a faculty member this fall.
"It goes without saying that our department is thrilled to have Matt with us," Serrato said. "To have him teaching undergraduate and graduate courses in children's literature and creative writing helps to strengthen two areas of excellence in our department."
Serrato also says that not only does de la Peña brings a feeling of passion as a writer, but also as a professor. 
"Matt brings an enthusiasm not only for writing, but also for teaching," he said. "Such positive energy is always welcome in the classroom and in our department, which prides itself as a place where inspired and ambitious faculty, staff and students produce innovative and meaningful work."