President de la Torre hosts fireside podcast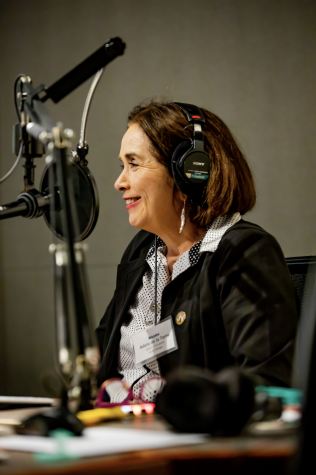 Hidden in the hallways of the KPBS building, President Adela de la Torre sits in a chair with a two person crew in a small studio.
De la Torre is not there to film a video or make music, she is recording the latest episode of her podcast "Fireside Charla."
De la Torre started the podcast in March, and worked with Presidential Communications Director Maria Keckler on planning a vision for the podcast.
"Podcasts are a growing medium worldwide, many young people are listening to it, and so I proposed it to her and she thought it was a great idea," Keckler said. "She is always looking for out of the box ideas,  so this was a natural progression of expanding her reach through these channels that can help her touch many more people that she may not be able to sit with."
De la Torre said the reason why she wanted to create this podcast was to tell a story.
"The impetus was really to get out the message about SDSU and to tell the public the story of our great faculty and our great students so that they could understand us by not just in terms of what they may perceive we are, but who we really are," de la Torre said.
Her latest episode, set to be released in November, talks about the "RE:BORDER Conference." It is a new collaborative conference exploring key transborder, binational issues and innovative solutions.
She spoke with three members of San Diego State's Blue Gold group, which has interdisciplinary faculty and students at SDSU devote their time to finding solutions to water problems in the San Diego and Mexico border region.
One of those members, environmental science and geography professor Trent Biggs, enjoyed the experience of being a guest on the podcast and found it to be an insightful opportunity.
"It was really fun," Biggs said. "It was nice that there were three of us to chime in with different perspectives and the president was really open and interested to hear what we had to say."
De la Torre also said that venturing into the medium of podcasting has taught her one important thing about everyone on campus; dedication.
"What has really surprised me is the dedication of the faculty and students to San Diego State and pushing it to the forefront in making the type of social change so that our campus can be known as impacting the transformation of our students so that they can become leaders of the future," de la Torre said.
At the end of the day, de la Torre hopes the podcast shares the different stories at SDSU.
"I think if we can reach out with these stories to the world, we'll have an impact that will make San Diego State be in the forefront of change for the future," de la Torre said.
Her first episode was released on March 1 this year. Since then, she has released 11 other episode ranging from topics about shared governance to SDSU's global impact
To learn more about "Fireside Charla," listen to Devin Whatley's one-on-one interview with de la Torre.
Devin Whatley is a sophomore studying journalism.