Honors program given $1 million to match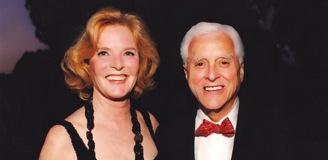 When Maurice and Charmaine Kaplan passed away in 2007, $1 million was given to San Diego State to be put toward an academic program, which then-SDSU President Stephen L. Weber decided would be the SDSU honors program. In order for the university to obtain the full million though, the receiving group would have to raise another million and the Kaplans bequest would match it, dollar for dollar.
Based upon the beliefs and wishes of the Kaplans, Weber decided to invest the money in the University Honors Program.
"The Kaplans really valued high intellectual academic achievement," Dean of the Division of Undergraduate Studies Dr. Geoffrey Chase said.
The money will be put to use in the honors program in several different ways. Funds will be allotted for key functions of the program, such as scholarships, internships and providing the chance for more honor students to study abroad. Some of the money will go toward obtaining university-wide programming in the form of lectures, seminars and other open events.
The money will also provide a starting point for the UHP's ultimate goal: To establish a separate honors college within SDSU in the next four to five years.
Honors students within the program said they feel this money will be essential to the growth of the program.
"The University Honors Program is at the front line of changing this university's perception of being a party school to a school focused on academics. I have seen this transition in my four years here," Levi Lentz, the UHP's campus engagement coordinator, said. "This money will help the program continue this trend of excellence by expanding and creating student-centric programs to produce bright and talented students prepared to change the world."
The money, now coming in the form of the Kaplan Challenge, is well on its way to aiding the University Honors Program.
"The UHP excels at educating and producing students at the forefront of their fields, engaging them in research, academics and the community," Kylie Corwin, vice president of the UHP, said. "Earning this money would increase our ability to engage and cultivate our students through classes, research, and study abroad opportunities. I truly believe this money will be extremely beneficial to us."
By next month, the UHP expects to have accumulated approximately $250,000, which will then be matched by another $250,000 from the Kaplan Challenge. The deadline to raise the full $1 million, according to the honors program website, is June 30, 2013.