SDSU rebounds from loss, gets win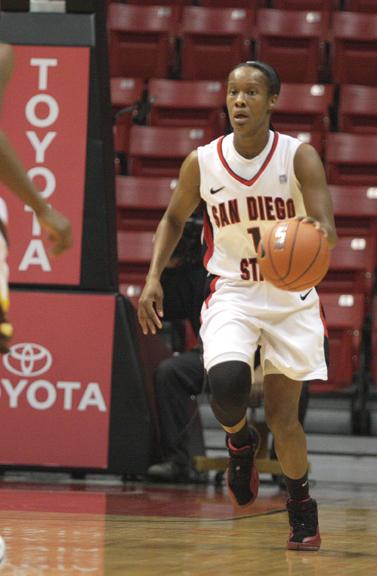 In a game in which one special woman was the headliner for the afternoon, the San Diego State women's basketball team had plenty of motivation with former North Carolina State head coach Kay Yow in mind. SDSU (18-5, MW 8-1) had three players score in double-digits as it defeated UNLV 77-64 on Saturday in Viejas Arena.
Junior guard Courtney Clements scored 23 points to lead the Aztecs, while senior guard Sajoya Griffin contributed 14 coming off the bench. SDSU had another overall great performance by junior guard Chelsea Hopkins as she recorded her third double-double of the season with 12 points, 12 assists and six rebounds. She had plenty of reasons to step up to the occasion after the TCU loss: playing against her hometown team in front of her family and, especially, having a strong connection with the "Play 4Kay" movement.
"I was fortunate enough to meet coach Yow when I was at Duke University," Hopkins said. "I also went to her funeral. Just the opportunity to do something for her, I feel really blessed and fortunate with the results today." With so many inspirational stories off the court, it led to a fantastic physical back-and-forth conference battle on the court.
UNLV jumped to a 9-2 early lead just two and a half minutes into the game. "Their pressure was just so good," SDSU head coach Beth Burns said. "So I wanted to open up the middle of the floor for Chelsea." It seemed to pay off as the Aztecs crawled their way back to take a 16-15 lead only five minutes later. It was apparent to anyone in the season-high attendance of 1,068 both teams were desperate for a win. The lead switched eight times before heading into the half with an SDSU 31-29 lead.
With plenty of back-and-forth action, the second half was no different. The Aztecs put up a stellar 61.9 percent shooting performance in the second half to pull away. SDSU will look to strengthen its grip on first place in the MW when it takes on New Mexico at 6 p.m. on Wednesday in Albuquerque, N.M.