Predicting the Super Tuesday results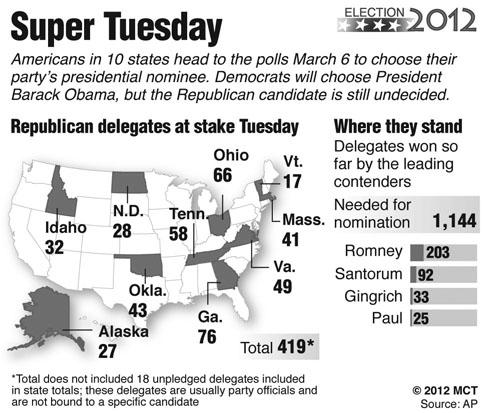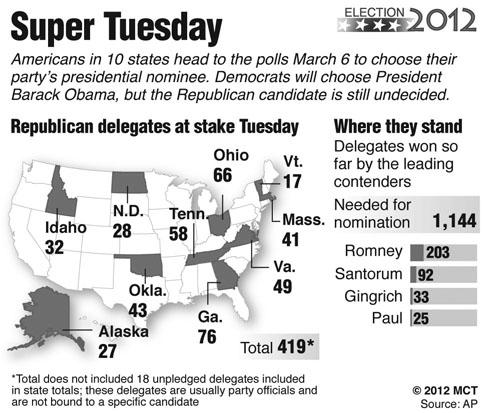 The proverbial belle of the primary season ball is back. The quadrennial contest known as Super Tuesday has again descended upon the primary election season. This particular Super Tuesday will consist of primaries and caucuses in 10 different states, all pushing the country closer to a dismal inevitability: One of these guys will actually win the Republican nomination and run in the general election this fall.
Today stands as a national barometer in which millions of Americans will have the opportunity to influence the primary process simultaneously. This is a far cry from the 5,541 Republicans who caucused last month in Maine.
That's the significance of today: it will feature the most prominent contests of the unending primary season. With 437 total delegates at stake, Super Tuesday is roughly as valuable to the nominees as the entire primary season has been thus far. Until this point 450 total delegates have been awarded.
Super Tuesday is a prep test for the general election, when candidates cannot solely rely on appearances at Tommy's Country Ham House in South Carolina or one of the Family Table Restaurants in Iowa in order to do well. To win on Super Tuesday, a candidate must do one of two things: They must either run a strong and cohesive campaign on a national scale, which includes spending boatloads of money in courting the "general" vote.
Or, they simply divide the states and focus their resources on those limited contests they have a legitimate shot at, with larger hopes of propelling the primary season deep into June. In a race that has had as many front-runners as candidates the second strategy of prolonging the inevitable will prevail on Tuesday. The requisite value of this strategy to the general public is truly incalculable, as we should all prepare for another three excruciating months of Republican primaries. What follows is a primer on what to expect today.
Alaska — Ron Paul will fight it out with Mitt Romney for Alaska, with Paul eventually striking gold. In 2008, nearly 14,000 participated in the Republican caucuses in the state, and the smaller caucuses have generally been a source of strength for Paul. His passionate base should tip this one in his favor. Winner: Ron Paul
Georgia — This will be Newt Gingrich's last hope for the general election. Six weeks ago he surprised everyone with a win in South Carolina, but unless Las Vegas billionaire Sheldon Adelson wants to fund his campaign into perpetuity, Georgia stands as a make or break for Gingrich. Georgia is his home state and the 76 delegates at stake should be his last stand. Today, Gingrich and Rick Santorum will slug it out, with Gingrich taking it in a closer race than he hoped. Winner: Newt Gingrich
Idaho — In 2008 Paul finished second to eventual nominee John McCain in Idaho, but the race for the nomination had all but wrapped up at that point. Idaho will be another state of interest for Paul who would win if not for Mitt Romney and Idaho's 23 percent Mormon population. Winner: Mitt Romney
Massachusetts — Romney was governor here from 2003 to 2007, and he won the Republican primary in 2008. He will easily repeat. Winner: Mitt Romney
North Dakota — Another small state, and another caucus state, meaning Paul should do well here. Romney did win the primary here in 2008, but there were fewer than 10,000 votes cast. This clearly means it should come down to whoever has the most passionate base of supporters. Paul should win here. Winner: Ron Paul
Ohio — The grand prize of Super Tuesday. Santorum and Romney both have a viable chance on Tuesday for various reasons. Current polling shows Santorum with a single-digit lead ahead of Romney, but the same polling indicates voters see Romney as the strongest candidate in the general election. Ohio could play out like the rest of the country; do you vote for the candidate you prefer or the one who is most electable? Ohio is too pragmatic, so I'm picking Romney in a small upset. Winner: Mitt Romney
Oklahoma — The Sooner State will be one of the three key races on Tuesday. Santorum is polling nearly 2-to-1 against Gingrich, and he should resonate with the evangelical base. Romney and Paul are nowhere to be found in polling and won't vie for the victory tonight either. This contest is between Gingrich and Santorum. Santorum should take Oklahoma relatively easily, by 7 to 10 percentage points against Gingrich. Winner: Rick Santorum
Tennessee — Like Ohio and Oklahoma, this race is going to be very influential in determining the overall nomination. In 2008, Mike Huckabee carried the state based on his social conservative values — something Santorum could do this year. Currently, 38 percent of voters identify themselves as being "very conservative" in Tennessee and the polling gives Santorum a double-digit lead going into the race. Romney did garner 24 percent of the primary vote in 2008, but Santorum should handily win this contest. Winner: Rick Santorum
Vermont — The New England neighbor to Romney's Massachusetts should also opt for Romney. Santorum has been polling well lately, with Paul and Gingrich in a lower tier but the state is Romney's to lose, and he won't. Winner: Mitt Romney
Virginia — Should easily fall to Romney. Because of a technicality only two candidates will be listed on the ballot, Romney and Paul. This means Romney should prevail relatively easily in Virginia, by virtue of his electability in the general election. Winner: Mitt Romney
That's five forecasted wins for Romney, two for Santorum, two for Paul and one for Gingrich, meaning each candidate will find some way to celebrate a pseudo-victory tonight while deciding to continue their campaigns in the wide open race. Super Tuesday will provide no more clarity, no more answers, and no more of a "candidate" than the last six months have. Like Punxsutawney Phil looking for his shadow, Super Tuesday will guarantee another three months of the unbearable primary season.