Women's basketball ready to host San Jose State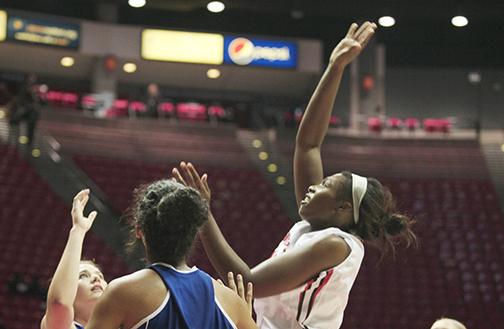 The San Diego State women's basketball team is ready to host San Jose State on Wednesday at Viejas Arena, a game which is critical for the Aztecs. A lack of schoolwork has maybe helped the Aztecs; they've gone 4-4 during winter break including an upset road win against Fresno State, who currently is tied for the top spot in the Mountain West Conference.
SDSU is 2-3 in the conference with wins against Fresno and Air Force; and losses to Colorado State, Boise State and the University of Nevada, Las Vegas. SJSU comes in with a 2-4 conference record, but an overall record of 8-9.
Frontcourt
Aztecs: For SDSU, senior center Cierra Warren is averaging 13.4 points and 5.9 rebounds per game, one of the few highlights in what has been a tough first season on Montezuma Mesa. She leads the team in both categories, and will need to combine well with junior forward Khristina Hunter, who scored 18 points against UNLV, in order to score points against the Spartans defense.
Spartans: Freshman forward Jasmine Smith leads the Spartans frontcourt averaging 12.3 points per game to go with 8.6 rebounds (good for third in the conference), but she has only started three games. It will be a question to whether the young talent can live up to her last road performance of 15 points, which came at New Mexico in a double-digit road loss.
Advantage: Aztecs
Backcourt
Aztecs: Freshman guard Ariell Bostick has shown she can play; despite averaging 8.1 points per game, her impact is felt through her ability to run the floor, steal, and pass the ball. Her speed will be tough for the Spartans soft defense to contain. Senior guard Danesha Long is also turning in a fine season, averaging 9.6 points per game while being SDSU's best free-throw shooter at 80 percent.
Spartans: SJSU's backcourt is potent, deep, and dangerous. It's led by junior guard Ta'Rea Cunnigan, who is averaging 18.8 points per game, good for second in the conference. But it doesn't stop with just Cunnigan; junior guards Rebecca Woodberry and Classye James are also averaging more than 12 points per game to contribute to the Spartans multi-talented scoring offense.
Advantage: Spartans
Coaching
Aztecs: Head coach Stacie Terry has had a tough first season at SDSU. The Aztecs are 5-10 overall with a 2-3 record in the conference, and are two games removed from a signature upset victory of conference leaders Fresno State on the road. The fact that most of her players are new to the program, hasn't helped this season as well.
Spartans: SJSU also has a new head coach, but Jamie Craighead is already experienced with four years at California State University, Sacramento under her belt, and a time spent as the youngest head coach in Division 1. She is the winningest head coach in CSU Sacramento history.
Advantage: Spartans
Intangibles
Aztecs: SDSU is holding opponents to fewer than 70 points per game, which will be a great matchup against the Spartan's fast offense. The Aztecs are also outrebounding teams by an average of four per game, a physical element, which could prove vital in a game facing an offense such as SJSU's.
Spartans: I've mentioned its offense a lot, because their offense is good. The Spartans have four players averaging in double figures, but with a high-scoring offense comes a very vulnerable defense, one that has given up more than 100 points on seven occasions. The Spartans also are 1-6 on the road, which tells its own story.
Advantage: Aztecs
Prediction
Aztecs: 79 Spartans: 77
The Aztecs return home to play the Spartans at 7 p.m. tonight at Viejas Arena.
Photo by Jenna Mackey, Staff Photographer