Weekend Picks: G-Eazy and Bike Film Festival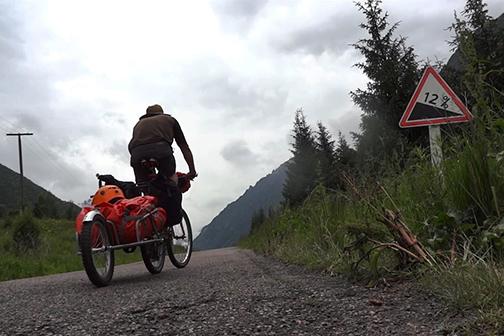 Alek's Picks
Riggi & Piros
East Coast duo Anthony Riggi and James Piros, Riggi & Piros are old enough to be students here at San Diego State. As 18 year olds, they began DJing at the ages of 16. A year later, the duo moved on to producing and cracked into Beatport's Top 20 with a remix of Clockwork's "Surge." Now, the two are bringing their East Coast "big room" house to Bassmnt this weekend. Come out this Friday to check out Riggi & Piros.
G-Eazy
Straight from the bayou, New Orleans rapper G-Eazy is ready to turn heads as he performs at SOMA this Saturday. Described with a "James Dean meets hip-hop" vibe, G-Eazy brings a wild live show with his mix and match of classic rock 'n' roll blended with modern hip-hop jams. Performing with some of the biggest names in the rap game from Lil Wayne, Drake and ASAP Rocky, G-Eazy has been around the block from club shows to sold out arenas. Saturday night with G-Eazy is looking to be hot, so don't miss out.
Ryo's Picks
Bicycle Film Festival
The two-day Bicycle Film Festival will cruise on by San Diego this weekend on Feb. 28 and March 1. Started in 2001, Festival Director Brendt Barbur describes the festival as a "platform to celebrate the bicycle through music, art and, of course, film." Many bike events are scheduled for Friday, including couple photo exhibitions and a ride with Leader Bikes. The films will be screened at the Museum of Photographic Arts on Saturday. Check out further information at the festival Facebook page for tickets and schedules.
The Wind Rises
Prolific animator Hayao Miyazaki's latest Studio Ghibli film "The Wind Rises," was released in San Diego last Friday at Landmark'a Hillcrest Cinemas. Miyazaki is responsible for the Academy Award winning "Spirited Away" and the anime classic "My Neighbor Totoro," just to name a few of his flicks. Loosely based on real events and nominated for Best Animated Feature at the Oscars, "The Wind Rises" follows the life of Jiro Horikoshi, an aspiring aeronatuical engineer who dreams of designing beautiful airplanes. In the English-dubbed version, Joseph Gordon-Levitt voices main character Jiro. The cast also features Emily Blunt, John Krasinski and Stanley Tucci. For those who prefer the original Japanese feature with subtitles, Hillcrest cinemas is offering both versions, each with their own showtimes.
Also read: Weekend Picks: Dom Kennedy and Robert Irwin
Photo courtesy of Fitz Cahall and Mik Gaspay