St. Vincent lives up to expectations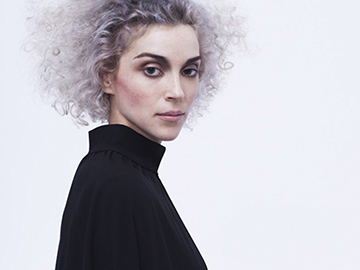 On March 19, rock musician Annie Clark, who records music with the name St. Vincent, returned to San Diego to perform at the House of Blues. Joined by solo musician Noveller, Clark is currently on tour supporting her latest album, "St. Vincent," which includes some of the musician's most rhythmic songs to date.
Performed live, the new material proved to be dance-friendly. St. Vincent started the show with "Rattlesnake," the opening song on her latest self-titled album, and got bodies moving with the song's skeletal beat. Following "Rattlesnake," other new songs such as "Digital Witness" got a similar response from the crowd.
When St. Vincent entered the solo for "Rattlesnake," she played with a different approach in her performance for this show compared to her last solo tour. She no longer played her guitar in an unhinged style as before. Instead, St. Vincent gave off an effortless cool as she entered the manic solo. Perfection mattered more than showing off her skills, and she controlled every chaotic buzz roaring from her instrument.
St. Vincent and her live band used the stage to their advantage for the whole show. A memorable part came during the breakdown of "Birth in Reverse." As St. Vincent and her other guitarist stood side-by-side, the two shuffled back and forth on stage to the music. Without their feet visible from where I was standing, the two glided as if they were on a conveyor belt, alternating positions in perfect sync.
The newest addition to the "St. Vincent" show was a pink platform, similar to the throne Clark sits on the cover of her new album. Atop the platform, Clark performed her most declarative songs, including "Cheerleader," "I Prefer Your Love," and a quiet rendition of "Strange Mercy." Toward the end, after a sprawling solo, she slowly crawled down the steps and lay upside down in a dramatic fashion until the lights went out.
St. Vincent finished the show with "Your Lips Are Red," a song off of her first album, "Marry Me." Though the set consisted of mostly new material, she included a few older songs in between. Whether a fan from the beginning or a newbie who heard the new record last week, the show definitely satisfied all of her fans.
Also read: Catch a wild ride with opener Speedy Ortiz
Photo courtesy of  Renata Raksha