Hollywood Happenings: Starring Kanye West and Kim Kardashian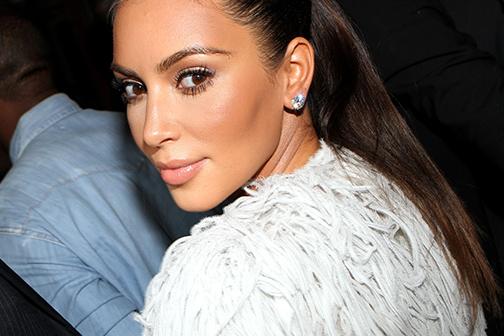 Celebrity of the Week (Brooke Schlyer):
Normally for Hollywood Happenings, we pick only one celebrity to have the spotlight for our celebrity of the week. However, this week, that honor goes to a celebrity couple. Engaged Kayne West and Kim Kardashian shared the cover of Vogue for the magazine's April issue. Kardashian poses in the front of the cover dressed in an off-white wedding gown while West stands in the back embracing her in a black tuxedo. This photo shoot gives fans a glimpse of what the couple's wedding may be like. According to the New York Daily News, the couple plans on getting married in Paris this May.
Sightings (Brooke Schlyer):
According to Eonline, Actress Megan Fox was spotted running errands with her oldest son Noah in Los Angeles on March 21. This is the first time Fox has been seen in pubic since giving birth to her son a month ago. This is the second child for her and husband Brian Austin Green. Luckily, fans will get more of the actress as soon as the movie "Teenage Mutant Ninja Turtles" comes out.
Also seen in LA on Friday was Jon Hamm. According to Popsugar. the "Mad Men" actor attended the Paley Center for Media's annual celebration of cast members and creators where he talked about his character on a panel discussion. The cast is already sad about the show's quickly approaching final season. Catch "Mad Men" on AMC.
Romance (Bekah Haynes):
Kate Hudson and fiancé Matthew Bellamy were seen together in LA last Friday afternoon. Although the couple has been engaged since 2011 and has a son together, the two have been rumored to be on-again, off-again as Hudson has been spotted several times without wearing her giant rock on her left hand. According to Eonline, an insider mentioned that although the couple has their ups and downs they are indeed working on building their relationship.
Also last Friday afternoon, Chris Hemsworth and his wife Elsa Pataky had their two twin boys, making them a happy family of five. They had their daughter, India Rose, in May of 2012, and they have not yet released the names of the two boys.
Trivia (Bekah Haynes):
1. What unique name did Kim Kardashian and fiancé Kanye West choose to call their little girl?
A. Easton B. North C. South D. Kam
2. Which celebrity duo that mocked Kanye and Kim's sensual "Bound 2" music video also parodied their newly released cover of Vogue magazine?
A. James Franco and Seth Rogen B. Channing Tatum and Jonah Hill C. Vince Vaughn and Owen Wilson D. Will Ferrell and John C. Reilly
3. Regardless of his ruthless reputation as one of "American Idol" and "The X Factor's" harshest judges, this man has proved to be a good father to his 5-week-old son, Eric.
A. Randy Jackson B. Keith Urban C. Simon Cowell D. Harry Connick Jr.
4. How many children do Brad Pitt and Angelina Jolie have?
A. 2 B. 4 C. 6 D. 8
5. These unlikely BFFs were seen together in LA. for lunch last Friday afternoon.
A. Taylor Swift and Lorde B. Miley Cyrus and Kylie Jenner C. Demi Lovato and Ariana Grande D. Kendall Jenner and Selena Gomez
Answers: 1. B 2. A 3. C 4. C 5. D
Also read: Hollywood Happenings: Featuring Josh Duhamel
Photo courtesy of Nancy Rivera/Ace Pictures/Zuma Press/MCT