MoCA brings laborers to canvas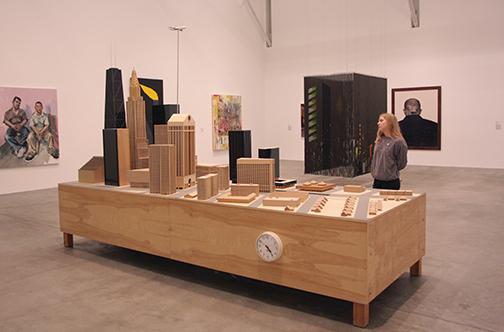 Museum of Contemporary Art San Diego, Downtown recently opened a couple new exhibitions for visitors to check out. The latest exhibition, "Eva Struble: Produce," opened April 5. It presents new paintings by San Diego artist Eva Struble. The other installation "Secrets & Lies," features works by various artists drawn from the museum collection.
In her new work featured in "Produce," Struble explores her newfound interest in Southern California agriculture through her experimental paintings. In preparation, she thoroughly researched the agriculture industry and interviewed the many laborers who work in the industry. The finished paintings have Struble rendering the agricultural landscape and cultural background of the migrant workers into expressive artworks. Different native colors and patterns, pulled from traditional textiles, get layered on top of another to create a vibrant collage.
"Secrets & Lies" collects works by different artists, done in different mediums such as photography, paintings and found objects. The uniting theme for all works in the exhibition is exploring the idea of deception and hidden messages. Artists play around with the norms and expectations of the viewers through disguises and unusual scenes, among others things.
While "Secrets & Lies" offers a lot to take in, two photographs stand out as my personal favorites from the exhibition. One is "An Inner Dialogue with Frida Kahlo" by Yasumasa Morimasa, a self-portrait of Morimasa dressed up as the famous Mexican artist. Morimasa plays with the idea of the self-portrait, a favored genre of Kahlo, as he changes his appearance into someone other than himself. Another is the photograph series "Inner-City Portraits" by Richard Lou. The four portraits seem to present photographs of different local people at a glance, but a closer look reveals they are all Lou well disguised in character. Both works explore identity in a creative way by playing around with perception.
Both exhibitions are open until June 22, so there is still a lot of time to head down to MCASD. For those under 25, the museum offers free admission with an ID. On May 15, the downtown site has Free Third Thursday where visitors get in free from 5 to 7 p.m, along with a tour of the museum from 5 to 6 p.m. Make use of the offers, and check out some new art up at the museum.
Also read: Let's talk about the HARD Summer 2014 line-up
Ryo Miyauchi, senior staff writer