Thomas finishes Aztec track and field career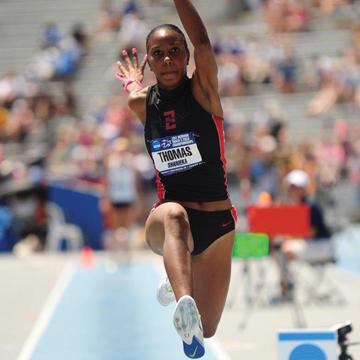 It's the dawning of a new era for the San Diego State women's track and field team, one that will not include one of the schools most decorated athletes, Shanieka Thomas, who graduated this past spring.
Thomas ended her final season on a high note—winning her third NCAA triple jump title, while also placing as a semifinalist for the Women's Bowerman Trophy, given out to the top NCAA women's track and field participant. Thomas was the first track and field participant in the Mountain West Conference, men or women, to place as a semifinalist for the award.
"I'm beyond happy, and grateful to God and everyone who aided in one way or another in helping me defend my title," Thomas said to GoAztecs.com after she won her third title. "It's been a tough year, battling injuries and adjusting to changes, but I am happy that I was able to compete and do as well as I did so that I can put myself in a position to be competitive at the world stage. I also wanted to make my family, friends, supporters, well-wishers and my entire SDSU family proud."
Her award-setting career came to an end on June 29 at the Jamaican National Championships in Kingston, Jamaica, where she placed second in the triple jump.
Thomas is the proud owner of the school's record for the indoor triple jump (46-02.50) and outdoor triple jump (46-05.25) and was named the 2013 MWC Female Athlete of the Year, which is given out regardless of the sport.
Her presence will be missed by fans, teammates, but most of all, her coaches.
"Shanieka is a next-level athlete," Aztec head coach Shelia Burrell said to GoAztecs.com after she won her third title. "I'm grateful to witness her development and success as a collegiate athlete. I'm looking forward to her develop even more and become a presence at the international level. Shanieka is a special athlete and deserves all the accolades of a three-time NCAA champion."
Thomas hails from St. Andrew, Jamaica, where she grew up, and came out of the gates firing in her freshman year, placing ninth in the NCAA for indoor triple jump, but she was just getting started. She would go on to place as the runner up for the NCAA outdoor triple jump during her sophomore season—she won her first MW titles for both indoor and outdoor triple jump.
Thomas' junior year, however, may have been her, and this university's best year ever. She posted school records for the indoor triple jump—the eighth-best in collegiate history—and outdoor triple jump—the seventh-best in collegiate history. She also took home an NCAA title to go along with the MW Female Athlete of the Year.
It's clear the Thomas is a one of a kind talent that this school was fortunate enough to watch develop into one the best female track stars in the world.
Thomas is currently training professionally in her native country of Jamaica where she looks to establish herself as an international power.