Die-in protests fuel the fire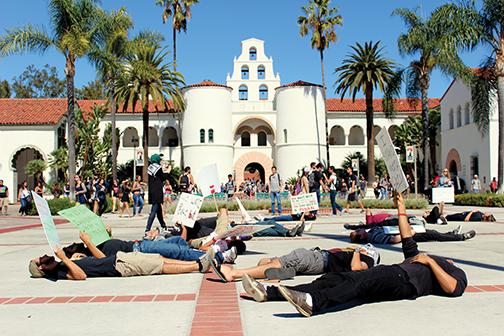 Remembering is an act that's integral to our humanity.
This specifically, applies to conflicts and tragedies that shatter every assumption we've made about our world. Remembering brings into focus what matters, what's lost and how we can collectively move forward.
Every year at 8:46 a.m. on Sept. 11, I'm touched and amazed at how everyone in the country stops to observe a moment of silence, to remember. When no words can begin to express the tragedy and no response can suffice appropriately, remembrance in silence is the right reaction. Remembering in silence is the only appropriate reaction.
However, what would we think if someone chose to utilize this event of remembrance and mourning as a platform to channel political agendas?
We should think of it as disgusting. Reducing a profound event intended for the recognition and mourning of a tragedy as a tool to promote political agendas is disrespectful to not only those mourning in the face of tragedy, but to the deceased victims as well.
This is what Students for Justice in Palestine has done with its recent event, "Remembering Gaza."
On Oct. 2, SJP held "Remembering Gaza," which sought to stand in remembrance with those who died in Gaza as a result of the conflict between Israel and the Hamas-controlled Gaza Strip.
At face value, I believed in the importance of the event. This event symbolized an opportunity for students from two opposing views to come together and remember the tragedies of war in solidarity. However, as I passed the event, I recognized a disturbing trend.
As SJP members had laid out "tombstones" of innocent, civilian victims of the conflict and staged a die-in in front of Hepner Hall, the attention wasn't so much on the victims. Instead it was on the large posters raised above their heads screaming for students to "Boycott Israel" and to stop funding "Genocide."
The main issue with this event is not entirely what it wants to be, but with what the event became.
"Remembering Gaza" ceased being an event about remembering those who lost their lives to war, and became another channel for SJP to promote anti-Israel slander and further isolate those who have different perspectives but want to help the Palestinian cause.
Sarah Katularu, Students Supporting Israel president who came to the event to memorialize the lives lost, agreed the nature of the event prevented a dialogue for peace and mutual resolution between organizations on campus.
"Going to this event, in hopes to memorialize such deaths, and having it turn into an Israel bashing event, calling for the destruction of Israel … makes people uncomfortable and for those who understand this chant, it makes them very upset," Katularu said.
Students such as Sheli Grumet sensed the hostility between SJP and students like herself.
"I didn't feel welcome or comfortable, as a Jewish and Israeli student," SSI member Grumet said. "The tension between SJP and Jewish students is always there … It isn't a good place to start dialogues."
A protest in the face of a memorial event is not the appropriate response to tragedy. Remembering is about respecting the lives lost, not about using them.
However the bottom-line is that remembering is a small part of a larger equation. Remembering also entails moving ahead. We need to move forward, toward a campus that's open to dialogue between opposing sides, if SJP allows it.
"Universities should be an open place for intellectual dialogue and peace," Grumet said. "There is always room for discussions and peace."
If these hateful antics continue ceaselessly, and SJP fails to recognize how its campaign methods irresponsibly disrespect other students and the deceased, we need to stop recognizing this organization as a student organization claiming to seek out social justice for Palestinians.
We need to start recognizing SJP for what they really are: a hate group.
Check out the counter argument here.