Aztecs finish sixth in Fairfax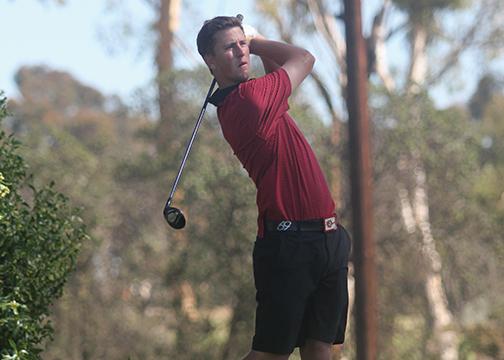 The San Diego State men's golf team finished in sixth place at the Alister MacKenzie Invitational on Tuesday in Fairfax, California. SDSU finished 15 strokes behind tournament champion University of California, Berkeley. The Golden Bears, Golfstat's 17th-best team in the country, captured the team victory at their host tournament for the sixth year in a row.
What began as a serene rendezvous at the nostalgic Alister MacKenzie-designed Meadow Club turned into a hostile encounter with Mother Nature's strong wind gusts. The Aztecs, ranked 28th by Golfstat, sat comfortably in fourth place heading into Tuesday's finale after posting a collective 11-under 273 and an even-par 284 during Monday's 36-hole double header. When stiff winds hit on Tuesday, SDSU couldn't hold ground, turning in a final round score of 13-over 297.
The Aztecs weren't the only team without an answer to the wind. Not a single team in the field of 16 carded a final round score of even par or better, and SDSU only dropped two places in the standings after its inflated final round. Tuesday marked the first time this season that the Aztecs finished outside of the top five.
Strong finishes have been absent for the men in scarlet and black so far this fall. Through four preseason events, the Aztecs are now 46 shots over par in final rounds at an average of 11.5 strokes per round. Although non-ideal weather has been present on several occasions, finishing strong is definitely something head coach Ryan Donovan wants to see his team improve upon.
"We are a good team," Donovan said. "We just needed to finish some final rounds through a little adversity."
Junior Riccardo Michelini had his best showing of the preseason, placing in fourth at 4 under for the tournament. Before this event, Michelini hadn't placed better than 18th in 2014. Michelini accounted for SDSU's only negative scorecard and was the only Aztec representative within the top 30.
Michelini's teammate and fellow All-Mountain West First Team honoree, senior Xander Schauffele, didn't have the same luck, finishing in a tie for 35th at 5 over which snapped his streak of two consecutive top 5 finishes.
Sophomore Brian Song and Junior Michael Koeneke were awarded their first taste of collegiate competition after winning their respective spots in practice. Song, who finished in a tie for 30th at 4 over, was the lowest scoring Aztec behind Michelini. Koeneke, along with freshman P.J. Samiere, finished the 54-hole event in a for 44th at 7 over to round out the Aztecs' scoring.
SDSU will have nearly four months off from the course until its spring season begins in February.
"We have some time now to work on our putting and course management," Donovan said. "We are ranked 28th by Golfstat and I think that we are better than that number."
The Aztecs will return to the course Feb. 9 and 10 when they host the Barona Collegiate Cup at Barona Creek Golf Course in Lakeside, California.