Olsen helps Aztecs upset No. 17 Oregon State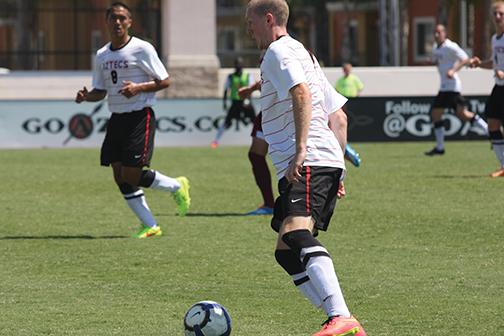 Freshman forward David Olsen scored his team-leading seventh goal of the season, and the San Diego State men's soccer team held on for its first win since September as they took down No. 17 Oregon State University 1-0.
Olsen scored in the 53rd minute from sophomore midfielder Pablo Vasquez's corner kick. The win couldn't have come at a better time for SDSU, as it had lost five of their past six dating back nearly a month.
Just how important was Thursday's win?
"Dude, I mean, it's great,"  senior defender Casey Phillips said.
And the win was made all the more important ahead of an important home clash against No. 1-ranked University of Washington. Thursday's shutout against No. 17 Oregon State was the highest-ranked team the Aztecs have beaten this year. Phillips wasn't the only one excited about the win.
"The stuff on both sides of the ball was absolutely fantastic tonight, the execution was great, the bench came off and made impacts on the game and to shut them out it was a fantastic team effort," head coach Lev Kirshner said.
SDSU has found the Sports Deck to be a complete home-field advantage, as all seven of its wins have come at home.
Oregon State came into the match having scored 29 goals in its 12 matches, including nine from freshman forward Tommy Mueller and seven with 10 assists from their senior midfielder Khiry Shelton. They were both silenced by the Aztecs' defense, which had lost redshirt freshman defender Julio Alarcon to injury in the first half.
But SDSU was able to stifle the Beavers even on a short week of practice, a good week as Phillips called it after the game. Kirshner opted to change his formation in order to avoid a lot of the one-on-one battles that Aztec players had been facing and losing recently.
"(It's) very difficult on a shortened week of preparation to do that, so I just cannot applaud this team enough to truly shift our tactics, change some of the personnel, come out here and be that solid," Kirshner said.
SDSU was out shot 12-9 on Thursday night, but Kirshner was pleased with the nine shots considering the Aztecs had managed 11 shots in their previous two games.
The last two matches, SDSU has been boosted by the arrival of junior forward Rene Reyes, who was just declared eligible for the Oct. 12 match at University of California, Berkeley, and fans should expect to see more of him.
"He's a very, very good soccer player he brings athleticism to the table, good soccer IQ, good energy and personality, there's a reason why he started tonight," Kirshner said.