SDSU suffers fifth straight road loss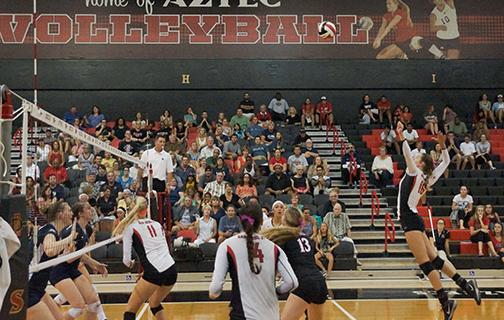 The tale of two teams continued on Thursday night as the San Diego State volleyball team lost on the road once again. The Aztecs lost the match against University of Nevada, Reno, in four sets (14-25, 23-25, 25-18, 18-25) to drop their overall record to 7-9 and 3-3 in Mountain West competition.
Away from Aztec Court, SDSU is now 1-8, despite the fact that the team's been nearly unstoppable at home with a 6-1 record. It truly seems as though there are two different teams depending on whether it's playing home or away games.
Also concerning is the fact that this is Nevada's second win in its last 12 outings. This marks the third straight victory the Wolf Pack has had against the Aztecs.
The first set started out on a bad note and SDSU quickly found itself in a 5-0 hole. The Wolf Pack proceeded to win the set by 11 points.
The second set was the most competitive set of the entire match as the two teams were never more than two points apart. The match came down to the very end with the two teams tied at 23 but Nevada got two points off a kill and block to win the set.
The Aztecs tried to make a comeback in the third set winning convincingly by seven points. SDSU worked well as a team and ended up with a .429 hitting percentage.
Unfortunately for the Aztecs, the third set would be their only win of the match. The fourth set unraveled for SDSU due to a .091 hit percentage and Nevada went on to win the set by seven points to finish the match.
One bright spot for the Aztecs was redshirt freshman outside hitter Alexis Cage, who recorded her first double-double of her collegiate career. She had 13 kills and 12 digs which were both personal career highs.
Other top performers for the Aztecs included junior outside hitter Halle Aiken and red shirt freshman libero Alexa Saba. Aiken ended the night with seven kills and Saba had 18 digs.
Up next for SDSU will another road game on Saturday at 6 p.m. against California State University, San Jose.