CIBER program receives $1 million grant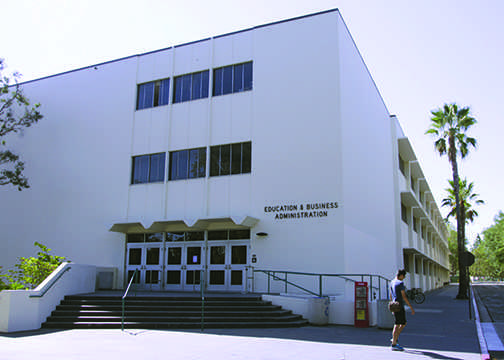 San Diego State's Center for International Business Education and Research received a federal grant of $1 million. The grant follows the final disbursement of a similar grant awarded in 2010.
The CIBER program focuses on creation and implementation of educational programs under three main branches; creating and strengthening the curriculum, faculty research, and outreach to the national and international business communities.
"CIBER helps our students better compete overseas and with the rest of the world," Managing Director for CIBER Mark Ballam said.
Since SDSU's CIBER program began in 1989, the federal grant has been renewed every three to four years, Ballam said. The new grant began this month and the total amount will be dispersed over the next four years.
According to SDSU NewsCenter, the grant was funded in part by the U.S. Department of Education. SDSU's CIBER program is one of only 17 such programs in the nation, and the only one located in California.
When the $1 million federal grant was dispersed four years ago, two other California schools — University of Southern California and University of California, Los Angeles — also received the grant, Ballam said. This year, 42 business schools applied, and besides SDSU, only one other college in the western U.S. was awarded the grant.
Ballam said SDSU's application highlighted the university's goals if awarded the grant. Initiatives mentioned included reaching out to local community colleges to help their business curriculum to better prepare their students for a smooth transfer to SDSU. The application also mentioned it hoped to  serve and strengthen minority programs.
"Now that we have been awarded the grant, we will work to deliver the initiatives we proposed and create new opportunities for students to accomplish goals," Ballam said.
The application filling period began in June and ended on July 3.
"The CIBER program helps students to have more of a global focus and international perspective," Interim Associate Dean for the College of Business Administration David Ely said. "It gives our business program a sense of national prestige."
Specific programs through CIBER include increased study abroad opportunities, especially short-term ones to accommodate all students, Ballam said.
The Global Business Project through CIBER has allowed SDSU business students together with students from other universities to travel to other countries to work with clients, Ely said. Through this experience, students used their business expertise to solve problems, often having to speak to their clients in a foreign language.
SDSU's International Business program, offered jointly through the College of Professional Studies and Fine Arts and College of Business Administration, ranked No. 10 in the nation this year in the U.S. News and World Report rankings.
"I am very proud that we got the grant and I am proud to be at SDSU with the students, faculty and willing administration," Ballam said. "We have become a model for the rest of the country and it is nice to be recognized for the position we hold."