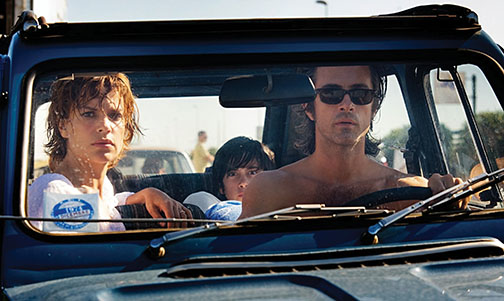 Not many people can jet off to a foreign country at the drop of a dime, especially college students preoccupied with midterms. And let's face it: traveling anywhere nowadays is extremely pricey. Despite lack of time and funds, there are great opportunities in San Diego where students can find an alternative travel fix such as the San Diego Italian Film Festival.
A dose of culture and excitement can be found at the eighth annual San Diego Italian Film Festival that kicked off last week on Oct. 16. The SDIFF provides a welcoming atmosphere for those interested not only in Italian film but Italian culture as a whole.
Bearing the slogan "not just Italian films — an Italian perspective," the SDIFF worked hard to achieve its goal of conveying a truthful outlook on modern life in Italy this year by screening ten Italian films all from the past 18 months.
Among the films shown during the SDIFF's opening weekend was 2013's "Anni Felici" (Those Happy Years), a film that only premiered at one other venue in the U.S., and "La Grand Bellezza" (The Great Beauty), which won an Oscar and Golden Globe award for Best Foreign Language film.
"La Grande Bellezza," directed by Paolo Sorrentino, was just one example of great Italian films the festival provided. The film followed the story of modern Italians disenchanted with life in Rome, a city rooted in grandeur. It ushered in feelings of curiosity while at the same time reflecting on the high expectations that's not always easy living up to.
Sponsors of the event included San Diego State's own Italian Studies program. Professor of Italian Studies Rosamaria Ruggeri said the film festival is a chance for friends to come together, experience something new and learn about the cultural realities of Italy through an artistic approach.
"Going to the SDIFF is an opportunity to see how Italy is today, to be immersed in the beauty of the country and the problems that people are confronting in what has become a multi-ethnic society," Ruggeri said.
The festival was held at three venues throughout San Diego and North County including the Museum of Photographic Arts in Balboa Park, La Paloma Theatre in Encinitas and UltraStar Cinemas at Hazard Center in Mission Valley. The festival garnered attention from citizens interested in Italian culture all throughout San Diego.
The SDIFF is an affordable way to get a rich Italian experience. If you're interested in a fun night out and indulging in the beauty of Italian cinema, you still have a chance at 7:30 p.m. on Oct. 24, at the MoPA to see the Italian drama "Miele" (Honey). Tickets are sold at the door, cash only, for $10 for general admission or $8 for SDIFF members, students and the military.