Football feeling confident with Fely's return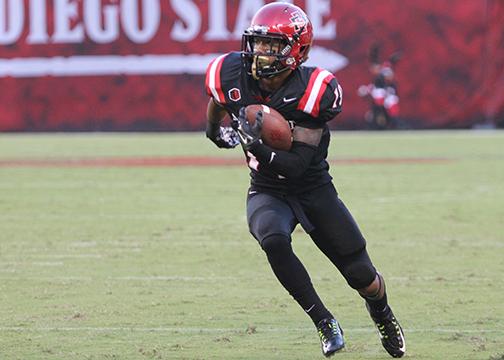 When San Diego State (4-3, 3-1 Mountain West) and the University of Nevada, Reno (5-3, 2-2 MW) football teams meet this Saturday in Reno, the odds may be it's going to be a game that comes down to the wire.
The last two times these teams played has resulted in thrilling overtime wins for the Aztecs. Aside from the history though, this is a big game for both teams as they joust for position atop the MW.
"When you look at the records for both teams, both teams have won their last two games, both teams are sitting in a spot where they could win the western side of the Mountain West," head coach Rocky Long said Tuesday in his weekly press conference. "It puts the winner of this game kind of in the driver's seat a little bit, so I think it's a huge game for us and it's a huge game for (Nevada)."
If the Aztecs hope to win, they're going to have to stop Nevada's senior quarterback Cody Fajardo who took control over SDSU defenses in the past.
"They've got the best quarterback in the league and he's torn us up in the past two years," Long said.
So far this season, Fajardo has amassed 10 rushing touchdowns, which is third-best in the conference and more than any other quarterback.
Fajardo has put up solid numbers so far, but the Aztecs' front-seven has been able to contain rushing quarterbacks like Fajardo well so far this season. This is something, according to Long, that may be different from years past.
"We're a little bit bigger and stronger up front than we've been in the past, which might give us a chance to make (Nevada) throw the ball more, which might be a mistake."
Another thing that favors the Aztec defense is the return of the teams 2012 Defensive Player of the Year, junior linebacker Jake Fely. Fely has not played since he broke his foot early last season.
SDSU's quarterback situation has not been as clear as Nevada's this season. However thanks to an extra week of rest because of a bye, senior quarterback Quinn Kaehler has had more time to his rest an injury to his throwing shoulder.
"It was nice to have the time off, especially for what I was going through," Kaehler said Tuesday at the team's weekly press conference. "My timing is just a little bit off so hopefully we can clear that up in the passing game and improve this next week."
A key factor to Kaehler settling back into a groove will be the return of senior wide receiver Ezell Ruffin, who has not played since the team's second game against the University of North Carolina.
"He's a great player and he can impact the game," Kaehler said. "Having an outstanding player return is obviously going to help us."
Even with Ruffin's return, the game-plan remains the same for the Aztecs as it has all year: feed the ball to sophomore running back Donnel Pumphrey, and control the clock.
It's tough to blame SDSU for sticking to that strategy, as Pumphrey enters the contest against the Wolf Pack with 989 yards, 12 touchdowns along with averaging 6.9 yards per rush.
"If they're not scoring a lot of points and we get up to an early lead, we want to be able to control the clock and not turn the ball over," Kaehler said.
The last two games between these teams have been offensive shooting matches. With Ruffin and Kaehler both healthy playing alongside Pumphrey, it looks like the Aztecs have the right weapons ready for battle in the most critical game of the season.